Borage
150 kr
'borage for courage' is the rough translation of the old Latin verse "Ego borago gaudia semper ago".

Borage is anti-inflammatory, demulcent, nutritive and cooling. It is giving tone to relaxed tissues like varicose veins. It is also used to soothe the body's mucous membranes. Borage can help ease arthritis and rheumatism.

Borage can be helpful to uplift and strengthen the spirits, especially in times of grief. It is also a great PMS-relief.

The blue starlike flowers reach an apex, coming to a singular focused point. Borage is excellent for individuals who are scattered in their communication, lack focus and clarity, and are unable to "get to the point". It can also be useful for people who tend to "beat around the bush" and are not direct with their communication.
Most confusion that occurs in relationships is due to unclear communication and Borage is an excellent remedy to turn to in order to bring more direct, focused and clear communication that gets to the point.
Categories: Jupiter, Singular Spagyric Tinctures
Tags: Borage, Borago Officinalis, communication, cooling, demulcent, grief, inflammation, jupiter, PMS, starflower
Description
Spagyric tincture of Borago Officinalis.
Take 7 drops in a little warm water or directly on the tongue.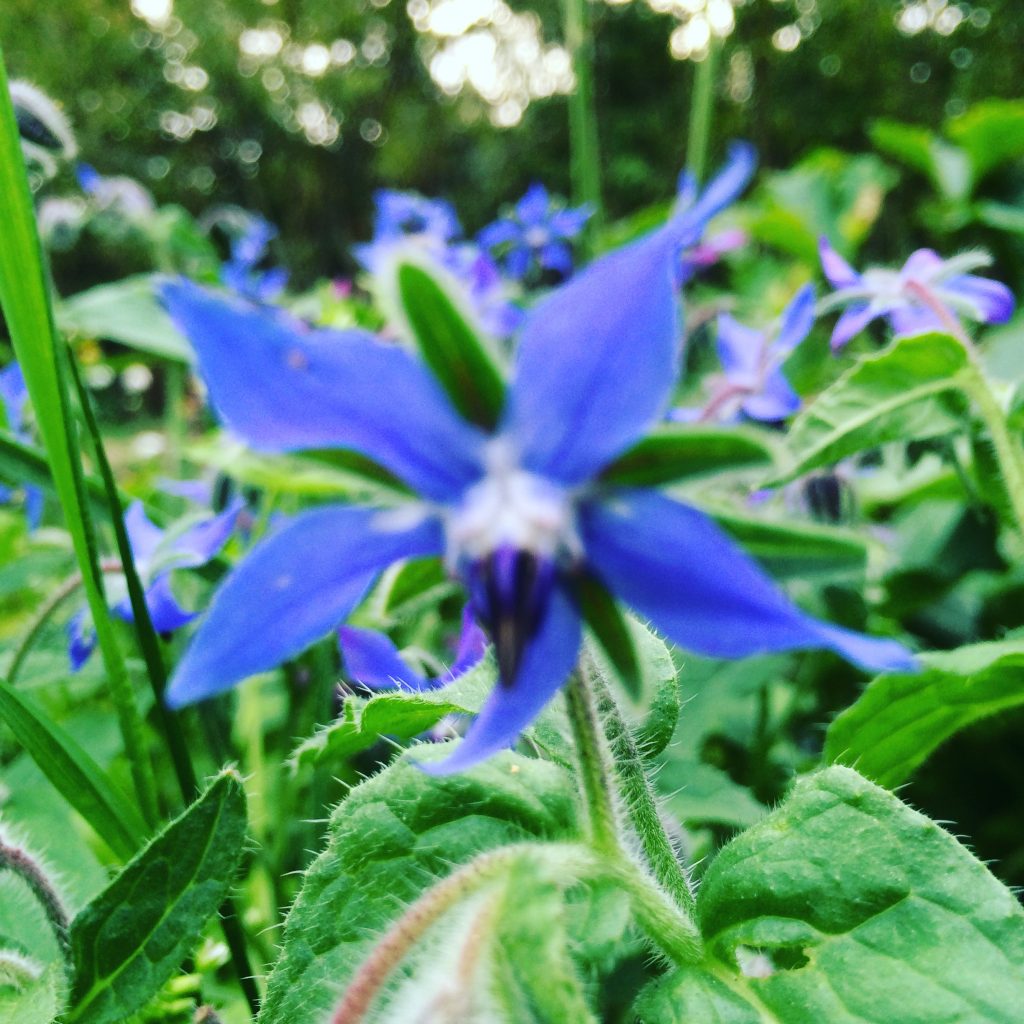 Related Products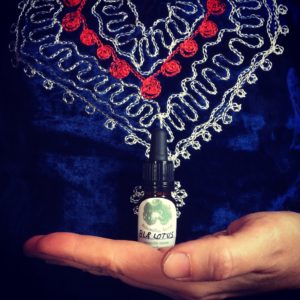 Sacred Blue Water Lily
[:en]"The sky was a midnight-blue, like warm, deep, blue water, and the moon seemed to lie on it like a water-lily, floating forward with an invisible current." – Willa Cather

The Sacred Blue Egyptian Water Lily is deeply relaxing for the body and mind, it is hypnotic and sedative. It is also a cardio-tonic – strengthening the heart. It is also an aphrodisiac.

An aid for yogis as it is a plant for meditation. It is also a helpful herb for dreamwork. The blue-violet color of this flower is a signature of the affinities with the third eye and the crown chakra.

From the murky dark mud it rises up bestowing magnificent blossoms. It shows us our experience in human evolution, as it blooms – so can we. It is a metaphor for our reunion with oneness. I connect this flower to the divine feminine creative power, Shakti.
Shakti is both responsible for creation and the agent of all change. Shakti is cosmic existence as well as liberation, its most significant form being the Kundalini Shakti, a mysterious psychospiritual force.[:sv]"Himlen var midnatts-blå, som varmt, djupt blått vatten, och månen verkade vila på det som en näckros, flytandes fram på en osynlig ström."
– Willa Cather

Den heliga blå egyptiska Näckrosen är djupt avslappnande för både kroppen och sinnet. Den är hypnotisk och sederande (lugnande). Den är också stärkande för hjärtat och cirkulationen samt en afrodisaka.

Ett hjälpmedel för yogis. Den blå näckrosen är en meditationsväxt. Den är även bra vid drömarbete.
Den blå-violetta färgen är signaturen för tredje ögat och kronchakrat.

Från den djupa dyn reser sig magnifika blommor. En metafor för vår mänskliga evolution, vi är kapabla att blomma och återförenas med enheten. Jag länkar samman denna blomma med den gudinnliga feminina kraften, Shakti. Shakti ansvarar både för skapelsen och all förändring. Shakti är kosmisk existens liksom befrielse. Kundalini Shakti är en mystisk psykospirituell kraft.[:]
150

kr