Borage
150 kr
'borage for courage' is the rough translation of the old Latin verse "Ego borago gaudia semper ago".

Borage is anti-inflammatory, demulcent, nutritive and cooling. It is giving tone to relaxed tissues like varicose veins. It is also used to soothe the body's mucous membranes. Borage can help ease arthritis and rheumatism.

Borage can be helpful to uplift and strengthen the spirits, especially in times of grief. It is also a great PMS-relief.

The blue starlike flowers reach an apex, coming to a singular focused point. Borage is excellent for individuals who are scattered in their communication, lack focus and clarity, and are unable to "get to the point". It can also be useful for people who tend to "beat around the bush" and are not direct with their communication.
Most confusion that occurs in relationships is due to unclear communication and Borage is an excellent remedy to turn to in order to bring more direct, focused and clear communication that gets to the point.
Categories: Jupiter, Singular Spagyric Tinctures
Tags: Borage, Borago Officinalis, communication, cooling, demulcent, grief, inflammation, jupiter, PMS, starflower
Description
Spagyric tincture of Borago Officinalis.
Take 7 drops in a little warm water or directly on the tongue.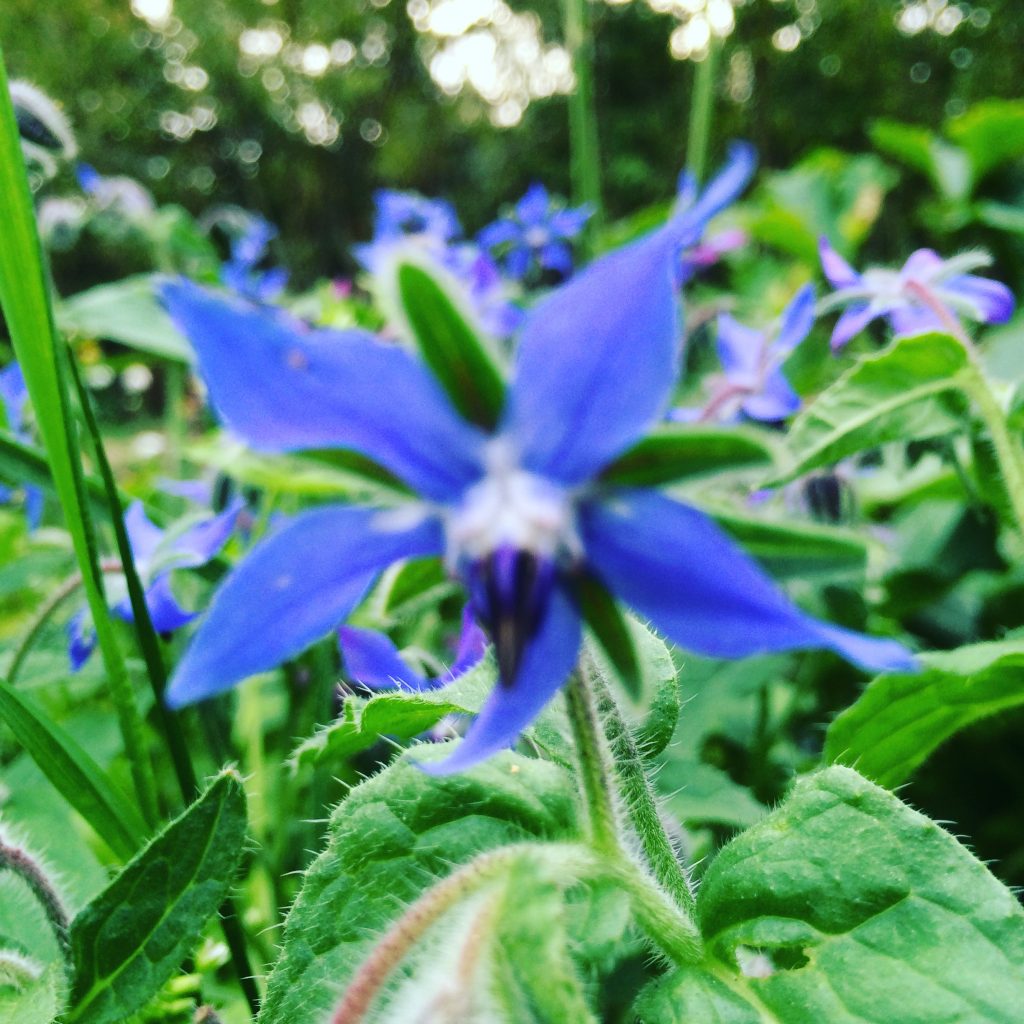 Related Products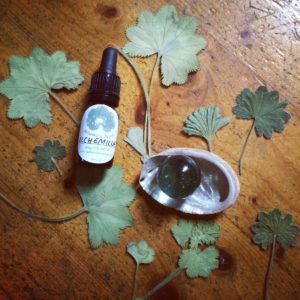 Lady´s Mantle
[:en]The Alchemist distills the Gold of a Thousand Mornings.

Lady´s Mantle has a time honored traditional use as a woman's healing herb. Lady´s Mantle has astringent and styptic properties, on account of the tannins it contains. It is a very healing herb for the womb and can be helpful for painful menstruations. It is a fertility herb, also good to use during and after pregnancy.
As a heart-tonic Alchemilla can be combined with prescribed medications. Strengthens the arteries. Good for swollen feet and legs.

The botanical name, Alchemilla, or "little alchemist" speaks of the uses of Lady's Mantle which have the ability to transform. Matthew Woods writes an account of this in The Book of Herbal Wisdom.
The alchemists found interest in the fact that the morning dew gathers like a translucent pearl in the center of the fan-like leaves, well into almost mid-day, when other plants are all dried off.
"Something within it is distilling the essence and simultaneously helping to preserve it. In a material sense Alchemila must correspond to processes which encourage cohesion on the surface of the droplet and prevent vaporization, while at the same time (and plants seem to work in two opposite directions) it must possess the ability to refine and distill fluids into their most subtle expression or essence."

In the same way in which the subtle, invisible membrane preserving the cohesion and integrity if the droplet is maintained, we can imagine Alchemilla making a subtle, invisible membrane around a person. It is encouraging integrity and cohesion. It works uplifting and empowering. It is about a kind of inner circulation and distillation.
It is healing to the emotional waters of the body and supports healing from sexual trauma.
[:sv]Alkemisten destillerar tusen morgnars guld.

Daggkåpa är en kvinnoört med sammandragande egenskaper. Den är läkande för livmodern och bra att ta till vid smärtsam menstruation. Den har använts traditionellt som en fertilitetsört och är stärkande under och efter en graviditet. Den stärker även hjärtat och artärer och går att kombinera med receptbelagda mediciner. Daggkåpa är bra vid svullna fötter och ben.

Etymologiskt avslöjar Alchemilla "den lilla alkemisten" att hon har transformativa förmågor. Matthew Wood skriver i sin bok "The Book of Herbal Wisdom" att alkemisterna fascinerades av att daggdroppar samlas i mitten av de solfjäderlika bladen och bevaras där långt efter att daggen torkat på andra växter på eftermiddagen. Någonting hos daggkåpan både destillerar och bevarar daggens essens. Alchemilla uppmuntrar en kohesion, en sammanbindning mellan molekyler och atomer i ett material, i detta fall daggen, och fördröjer evaporeringen, samtidigt som hon verkar ha förmågan att förfina och destillera vätskor till sitt mest subtila uttryck och essens. Växter arbetar ofta på detta sätt – i två polariteter av ett spektrum.

På samma vis som det subtila osynliga membranet bevarar kohesionen och integriteten av daggdroppen, kan man se Alchemilla skapa en subtil, osynlig bubbla runt en person på ett energiplan. Integriteten stärks och man känner sig sammanhållen. Daggkåpan verkar upplyftande och skänker inre styrka. Det handlar om en slags inre destillering och cirkulation. Den helar vårt inre vatten och de känslor som strömmar inom oss. Daggkåpa kan vara bra att ta till om man har råkat ut för emotionella eller sexuella övergrepp.[:]
150

kr