Emotional Heart
150 kr
This is a formula that supports the emotional heart. It can be helpful after a traumatic experience or shock for healing on an emotional level.
---
Spagyric tincture containing:
Achillea Millefolium, Rosa Rugosa and Alchemilla Vulgaris and dewdrops collected by Alchemilla. (Yarrow, Wild Rose and Lady´s Mantle)
Hydrosol of Alchemilla Vulgaris, extracted mineral salts of the above mentioned herbs, organic alcohol.
Take 7-20 drops directly on the tongue or in a little room temperature water.
Related Products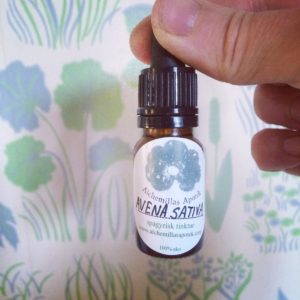 Milky Oats
[:en]
"Joy all creatures drink
At nature's bosoms…" ~ Friedrich von Schiller

The oat is harvested in its milky stage when it is green and contains a milky substance which is highly nourishing. It is especially soothing for a burnt-out nervous system. It is deeply healing for the frazzled nerves and also for a crashed stomach, perhaps if the gut is unbalanced after antibiotics.
Milky oats is also beneficial for persons with deficiencies or malnourishment. It is also a demulcent. Milky oats is a nervine tonic and trophorestorative.

A burned-out person needs to rest and does not benefit from adaptogenes, to come back to the same stressful life that caused the burn-out. A burned-out person benefits from nourishing the body, mind and soul to be able to handle life with an inner calm and knowing when it is time to slow down and how to make priorities.

Milky oats is ideal for people with overactive crown chakras, tending towards nervousness, anxiety, and high levels of sensitivity to the environment. Milky oats is also helpful when dealing with depression.
Milky oats is often helpful for people struggling with addiction. Addiction is often at the root about lack of nourishment on a soul level. One thinks that there is something lacking to be able to be satisfied without the addiction, because one is afraid there is not enough nourishment in other ways.
Milky oats is an energizer, but it does this cumulatively, building energy slowly and consistently by deeply nourishing the entire body. It alleviates both physical and nervous fatigue. It is metaphorically nursing directly from Mother Earth.[:sv]
"Joy all creatures drink
At nature's bosoms…" ~ Friedrich von Schiller

Havren skördas i mjölkigt stadium. Då är axet grönt innehållandes en mycket närande vit mjölkig substans. Denna mjölk är särskilt närande för nerverna. Den är djupt helande för utbrända personer. Den är närande för nerverna i hjärnan, och är även bra för en kraschad mage, till exampel om man hamnat i obalans efter en antibiotikakur. Mjölkig havre är även bra för undernärda personer eller för de med intoleranser. Mjölkig havre är trophorestorativ, det vill säga den ger näring och stöd att bygga upp en ny energireserv.

En utbränd person behöver vila. Adaptogener är inte vägen att ta för att "komma tillbaka" för att orka med samma stress som skapade kollapsen. En utbränd person behöver nära sin kropp, ande och själ för att orka hantera livet med ett inre lugn.  Att känna sig förankrad och att ha kontakt med sig själv för att veta när man bör sakta ner på tempot och hur man klokare prioriterar. Mjölkig havre är idealiskt för de som har överaktiva kronchakran vilket kan yttra sig i nervositet, ångest och högkänslighet. Mjölkig havre kan även hjälpa vid depression.

Mjölkig havre ger energi som byggs upp undan för undan samtidigt som den när hela kroppen parallellt.
Mjölkig havre hjälper ofta de med beroendeproblematik, vilket ofta har att göra med att man är undernärd på ett själsligt plan, man tror att man saknar någonting för att vara tillfredställd utan sitt beroende och får för sig att det inte finns näring för en på andra vis.
Den hjälper mot såväl fysisk som psykisk trötthet.
Det är som att metaforiskt dia dirrekt från Moder Jord.[:]
150

kr