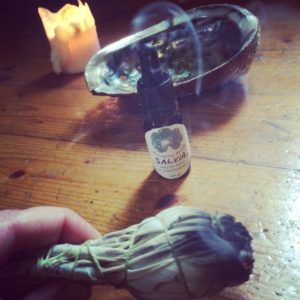 Sage
Sage is for the practicing mystic – I walk my talk

Sage is used for irritations and inflammations of the throat and respiratory system. Sage has an action on the liver, gallbladder and the digestive system and helps the liver to break down fat. Regulates sweating.

Purification of the self and purity in communication. Support in delivering our messages. Sage reconnects us to who we are and helps us to recognise wisdom in everything. How each reflection of life is a reflection of our own nature, as we hold the whole universe within our own being.

Sage helps with integration of the spiritual and the physical worlds together, dissolving the boundary between the mundane and the sacred, helping to bring knowledge into the heart where it can transform into wisdom. Sage is a wise plant teacher of many secrets.
150

kr