Emotional Heart
150 kr
This is a formula that supports the emotional heart. It can be helpful after a traumatic experience or shock for healing on an emotional level.
---
Spagyric tincture containing:
Achillea Millefolium, Rosa Rugosa and Alchemilla Vulgaris and dewdrops collected by Alchemilla. (Yarrow, Wild Rose and Lady´s Mantle)
Hydrosol of Alchemilla Vulgaris, extracted mineral salts of the above mentioned herbs, organic alcohol.
Take 7-20 drops directly on the tongue or in a little room temperature water.
Related Products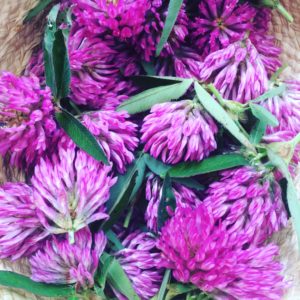 Red Clover
"To make a prairie it takes a clover and one bee, One clover, and a bee, And revery. The revery alone will do, If bees are few. "
-Emily Dickinson


Red Clover is a blood purifyer. Therefore it is good for exzema and acne. It is good as a detox.
Because of its concentration of the phytoestrogens daidzein and genistein, which mimic the activity of estrogen, red clover has been studied for its use in alleviating the discomfort of menopause and PMS.

Red Clover has a mildly tonic effect on the nerves, which in turn eases indigestion, nausea and headaches.

"Plants with three leaves are sometimes used to discuss the nature of trinity or manifestation with the numerical value of three. The rarity of the four-leved plants has developed a widely held belief that they bring luck."
From "A compendium of Herbal Magick" by Paul Beyrl.