Hydrosols
Hydrosols are the distilled herbal waters in the process of steamdistillation of essential oils and can be used internally and externally for health, pleasure and beauty.
---
The hydrosol is in a 30 ml brown glass bottle.
Hydrosols should be stored in a cool dark place, a refrigerator is optimal.
A hydrosol lasts 5-12 months.
The herbs I distill are grown organically in my garden and are harvested and distilled at astrologically optimal moments.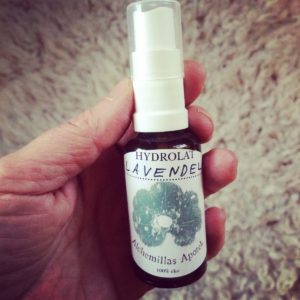 Hydrosol of Lavandula Angustifolia
Floral and sweet with notes of honey and deeper basenotes
A soothing balm for the body, mind and soul.
Use as a mist, balancing for all skintypes even the baby's.
70

kr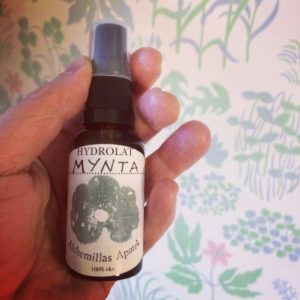 Hydrosol of Mentha Piperita
Spicy yet cooling and refreshing scent.
Peppermint awakens the mind! Drink it in the morning to awaken the body, including the colon.
Spray on the face and body during external or internal (menopause) heatwaves.
Peppermint is phenomenal for concentration, when studying or writing. It cools the nerves but stimulates the mind. Spray a cloud and walk through it before important meetings or work with clients to be alert and present.
70

kr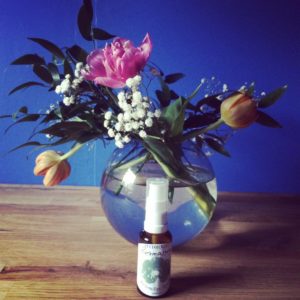 Hydrosol Of Rosmarinus Officinalis
A green, sweet and spicy scent.
Rosemary is a powerful antioxidant.
It stimulates the liver and gallbladder, promoting production of bile and aiding digestion.
It is also useful during a fast or cleanse to reduce hunger and aid detoxification. Add a teaspoon to a glass of water. It is delicious to cook with.
It is a mental and physical stimulant. It makes a good coffee substitute for those wanting to cut down on caffeine.
It is good for memory and dreamrecall. Good to sparay around you when studying.
I connect it with the crownchakra.
Rosemary makes the hair thick and shining. Spray the scalp to increase hairgrowth.
Do not use internally when pregnant or nursing.
70

kr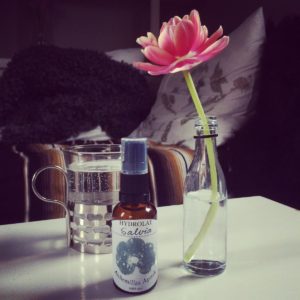 Hydrosol Of Salvia Officinalis
Pure, fragrant, herbaceous and uplifting aroma
Sage hydrosol can be used to purify a space, persons or objects when burning insence is not permitted.
As a mist it may be used as a circulatory stimulant.
Sage helps balance the hormones and autonomic nervous system and may be helpful in easing the symptoms of menopause, PMS and menstrual cramps as a mist and taken internally diluted in warm water.
When Sage hydrosol is applied at the onset of swollen lymph nodes, it can help reduce the swelling.
It can be used for a sore throat, diluted in warm water or sprayed in the throat.
70

kr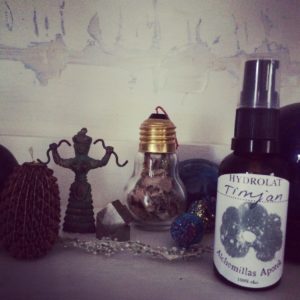 Hydrosol of Thymus Vulgaris
Flowery and sweet scent.
Hydrosol of Thyme may be used for:
Acne. I recomend using the spagyric tincture internally and the hydrosol to spray on areas with acne.
Flu and cold, spray around you and take 1 teaspoon in a little warm water. For children with a flu or cold, 1/2 teaspoon. It supports the immunesystem and is disinfectant.
As a mouthrinse after brushing the teeth, for children prone to caries.
Very tasty in cooking.
Yeast and fungal infections, candida.
Thyme has a strengthening effect on the mind. Thyme stimulates the Thymus gland and the adrenal cortex, which improves immunity and self-identity.
70

kr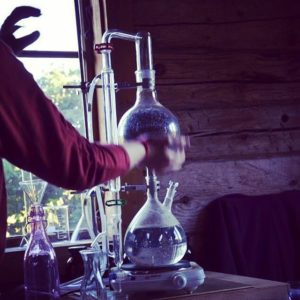 More Hydrosols
MORE HYDROSOLS
Hydrosols are the distilled herbal waters from the process of steamdistillation of essential oils.
In alchemy the sulphur principle represents the initial light and the source of life, and it manifests in the essential oil, which is the soul of the plant. So hydrosols contain the soul of the plants and they operate especially on the level of the soul.


It is possible to order other hydrosols from me than the ones listed in the shop. I distill regularly as a part of the spagyric process and I want to share what I do not need for spagyrics or what we use in my family. We bathe with hydrosol in the water, we drink them diluted, use them in cooking, as skincare , medicinally, for cleaning and laundry, to alter the vibration in a space or change of mood. We use them daily. Children and animals are very fond of them.
Just specify which one you would like to order.
They all come in a 30 ml brown glass bottle with a spraypump.
The price is 70 kr + shipping.
All hydrosols should be diluted in water before taken internally.
5-12 months stability. Keep dark, cool, preferably refrigerated.
The herbs I distill are grown organically in my garden or by friends, or grow in the wild.
They are harvested and distilled at astrologically optimal moments.
70

kr