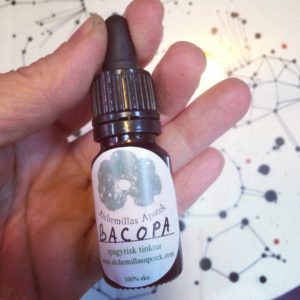 Bacopa
Aka "Stronger Brahmi", "Water Hyssop", "the divine great drug", "Herb of Grace"

Brahmi is a nootropic herb and its uses in neurological and psychiatric disorders are well recognized. Bacopa is a nerve tissue builder and cardio-tonic, it relieves stress, aids respiratory tract problems such as asthma, bronchitis, cough but foremost it is used for nervous exhaustion, to improve memory and as a "brain-food".

Bacopa increases comprehension, concentration and recollection. In India it is used for ADHD. It gives focus to scattered minds. It gives overview instead of millions of separated details, it makes you see the patterns.

The ancient Ayurvedic sages, who were also great physicians, revealed Brahmi's role in promoting Medhya (intellect), Ayushya (longevity), Rasayana (rejuvenation), Prajnasaktivardhana (intellectual power), Hrdaya (Heart), Majjadhaty Rasayana (nervous system rejuvenation), Balya (strength, especially mind), Jivaniya (life energy), Nidrajanana (sleep), Dhana (wealth), Svara (voice), Varna (complexion) and Anuloma (redirecting the flow of vata downwards).
It is not for nothing Bacopa is referred to as The Divine Drug.
150

kr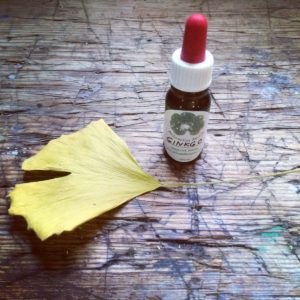 Ginkgo
Ginkgo have lived for 300 million years on our earth.

The leaves of the Ginkgo tree contain different active substances at different stages, so I harvest thrice. Ginkgo improves circulation, it supports the heart and improves blood flow in tissues and organs, which protects cells against damage by oxidation by free radicals.
Ginkgo is thus an antioxidant and improves absorption of nutrients, providing vital oxygen supply to each cell. It aids vision and hearing-related problems due to these properties. It is also these characteristics that support memory. It is a brain-tonic.

Ginkgo is good against fatigue, gives energy and is good for depression by the particular phytochemicals it contains. Ginkgo is one of the nootropic plants that improve mental functions such as cognition, intelligence, motivation, memory and concentration.

Something interesting with the leaves of Ginkgo is that they look a bit like the two halves of the brain. Nature communicates with us via the doctrine of signatures, the signs of nature.
150

kr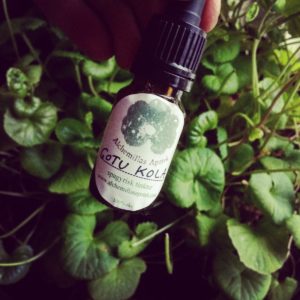 Gotu Kola
The herb of the yogi
"Yoga exists in the world because everything is linked." – Desikashar

Gotu Kola is anti-inflammatory and a circulatory stimulant. It is also an excellent connective tissue tonic, aiding with arthritis, ulcers, skin problems, strengthening hair, skin and nails. Connective tissues connect all things in the body – muscles to bones, holding organs in place, and giving the body its mobile structure.

It is used by many yogis to enter a state of non-dual awareness and deepen their meditation. It promotes a very high level of clarity not of mind, but of awareness of the mind – which in turn clarifies the thought processes. Gotu Kola helps to increase circulation to the brain, balance its hemispheres, improve memory, intelligence, and calms the mind. It is a rejuvenative tonic for the nerves, brain cells, and the adrenal glands.
Gotu Kola is very much connected to the crown chakra. It is an adaptogen and a brain-tonic.

The connection between the crown and connective tissue is that this herb helps us to understand the unity of all things, how everything in our body is interconnected, and how everything in the universe is interconnected too.
150

kr