Saturn
Led/Saturday
---
Concentration, cold, limits, guardian of the treshhold between the material and spiritual world, taskmaster, discipline, self-suficiency, minerals, bones, joints, teeth, tendons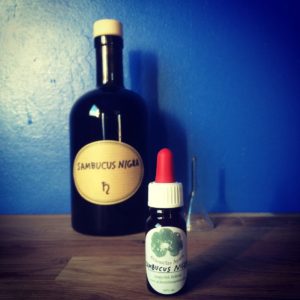 Elder
The name Elder has to do with "Eld", fire. It is a fever remedy.
Sambucus comes from the latin term for a musical instrument – The Pan Pipes – which were originally made from the hollow stems of Elder.

This hollow signature is reflected as Elder used as a remedy opens all tubes of the body (skin, lungs, colon, kidneys, blood vessels) improving oxygenation, blood flow, perspiration, and elimination by the colon or kidneys. Elder is a relaxant, helpful in spasmodic cough and spasm in the stomach.
The berries are blood building and together with the flowers are healing when you have a fever. Also helpful in red dry irritated skin of the cheeks, as it opens the tubes and pores and lubricates the skin. It improves respiration, digestion and kidney function.

Imagination is the channel of communication from another dimension. Tubular plants such as Elder and Angelica have long been associated with the shamanic journey to the Underworld. The lore surrounding the Elder is immense and mysterious. The Elder serves as a doorway to the Underworld, or magical faery realm.

I start to prepare the Elixir in July when I distilled the flowers and let them macerate until I collected the berries and let them macerate together with the flowers, creating a double tincture from the white flowers that look like five pointed stars and the dark purple almost black berries. These are signatures of saturn, the polar qualities of father time and mother of death and rebirth.
The spagyric tincture is a great antioxidant and aids to improve immunity in winter time. It is also a gatekeeper to the spirit world. It is called Elder for a reason! It is a teacher of nature, of time, life and death.
150

kr