Borage
150 kr
'borage for courage' is the rough translation of the old Latin verse "Ego borago gaudia semper ago".

Borage is anti-inflammatory, demulcent, nutritive and cooling. It is giving tone to relaxed tissues like varicose veins. It is also used to soothe the body's mucous membranes. Borage can help ease arthritis and rheumatism.

Borage can be helpful to uplift and strengthen the spirits, especially in times of grief. It is also a great PMS-relief.

The blue starlike flowers reach an apex, coming to a singular focused point. Borage is excellent for individuals who are scattered in their communication, lack focus and clarity, and are unable to "get to the point". It can also be useful for people who tend to "beat around the bush" and are not direct with their communication.
Most confusion that occurs in relationships is due to unclear communication and Borage is an excellent remedy to turn to in order to bring more direct, focused and clear communication that gets to the point.
Categories: Jupiter, Singular Spagyric Tinctures
Tags: Borage, Borago Officinalis, communication, cooling, demulcent, grief, inflammation, jupiter, PMS, starflower
Description
Spagyric tincture of Borago Officinalis.
Take 7 drops in a little warm water or directly on the tongue.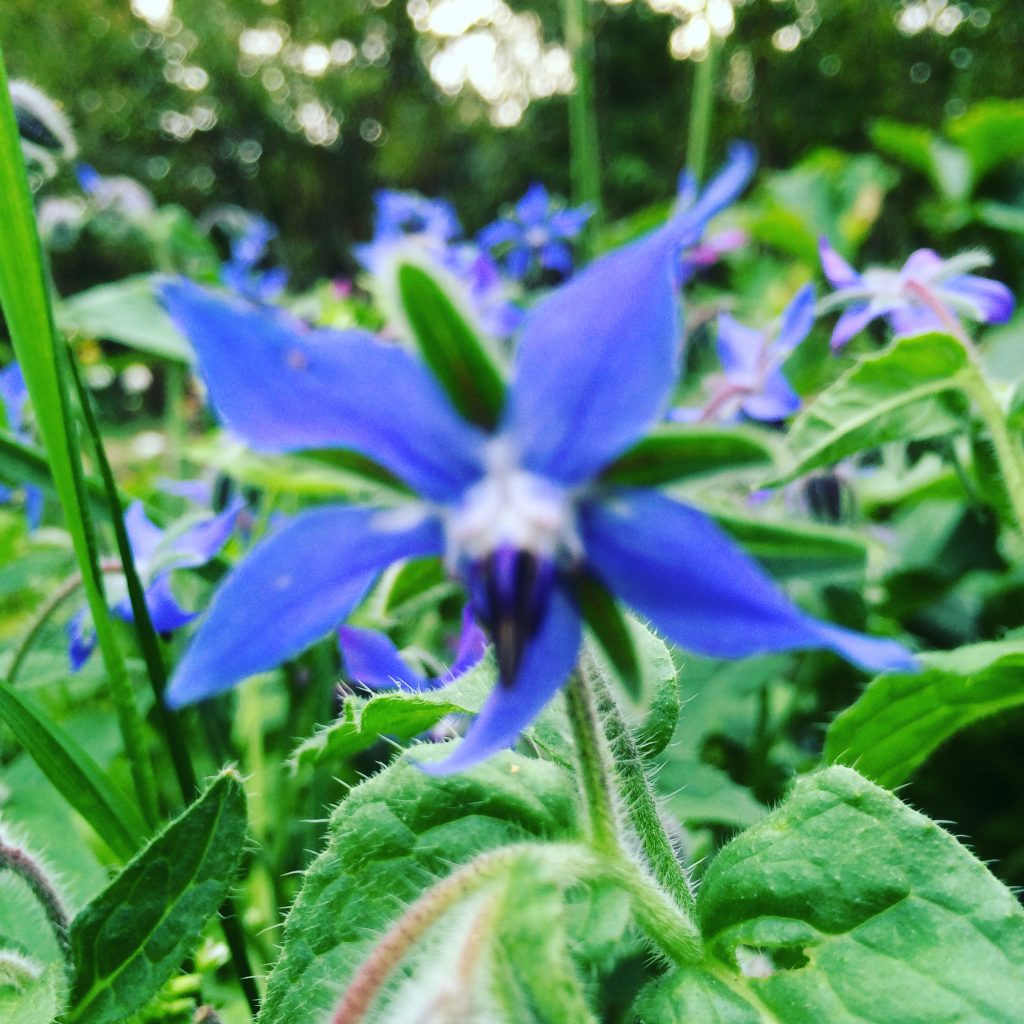 Related Products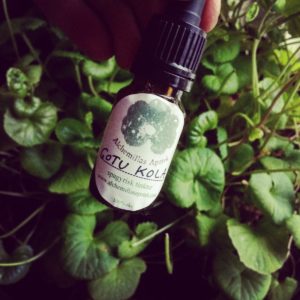 Gotu Kola
[:en]
The herb of the yogi
"Yoga exists in the world because everything is linked." – Desikashar

Gotu Kola is anti-inflammatory and a circulatory stimulant. It is also an excellent connective tissue tonic, aiding with arthritis, ulcers, skin problems, strengthening hair, skin and nails. Connective tissues connect all things in the body – muscles to bones, holding organs in place, and giving the body its mobile structure.

It is used by many yogis to enter a state of non-dual awareness and deepen their meditation. It promotes a very high level of clarity not of mind, but of awareness of the mind – which in turn clarifies the thought processes. Gotu Kola helps to increase circulation to the brain, balance its hemispheres, improve memory, intelligence, and calms the mind. It is a rejuvenative tonic for the nerves, brain cells, and the adrenal glands.
Gotu Kola is very much connected to the crown chakra. It is an adaptogen and a brain-tonic.

The connection between the crown and connective tissue is that this herb helps us to understand the unity of all things, how everything in our body is interconnected, and how everything in the universe is interconnected too.[:sv]
The herb of the yogi
Yogins ört

"Yoga existerar i världen , eftersom allt är sammanlänkat." – Desikashar

Gotu Kola är antiinflammatoriskt, främjar cirkulationen och är även utmärkt för lederna. Den kan hjälpa vid artros, magsår, hudproblem, stärka hår, hud och naglar.
Bindväven förbinder skelettet till musklerna, håller de inre organen på plats och ger kroppen dess mobila struktur.

Gotu Kola används av yogis för att träda in i ett odualistiskt medvetande och fördjupad meditation. Den främjar klarhet av medvetandet av sinnet, på en metanivå. Detta påverkar i sin tur klarhet i tankeprocesserna. Gotu Kola ökar cirkulationen till hjärnan, balanserar hjärnhalvorna, förbättrar minnet och de kognitiva förmågorna så som intelligensen och verkar lugnande. Gotu Kola påverkar kronchakrat och är en adaptogen, en så kallad brain-tonic.

Gotu Kolans samband mellan kronchakrat och kroppens bindvävnader handlar om att denna ört har med alltings enhet att göra, hur allting i våran kropp är sammanbundet och hur allt i vårat universum är sammanlänkat likaså.[:]
150

kr