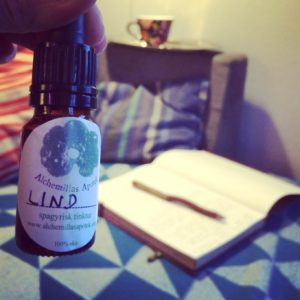 Linden
"Love is space and time measured by the heart." – Marcel Proust
Hjärtats minne

Lindblom kyler inre hetta, feber och när huden hettar. Den är också behjälplig vid rastlöshet, hyperaktivitet och panikångest.
Lindblom stödjer andningsvägarna, bra att ta till vid influensa och för att få upp slem och snor som sitter djupt.

Lindblom lugnar nerverna och hjärtat och är bra för att drömma lucida drömmar. Lindblom är bra för den typ av ångest som känns i hjärtat, sömnlöshet och stress. Lindblom verkar sederande.

Marcel Proust var den första att mynta begreppet "Ofrivilliga minnen" i romansviten "På spaning efter de tid som flytt". Proust såg dessa ofrivilliga minnen innehålla det förgågnas essenss, som han ansåg saknades i ett frivilligt minne. I romanen beskriver han en händelse där han äter en lindblomstedoppad madeleinekaka, och ett barndomsminne av att äta en lindblomstedoppad madeleinekaka uppenbaras för honom. Från detta minne följer minnen av hela hans barndom, huset han bodde i, den lilla staden och dess invånare. Detta är temat genom romansviten , via känselportalerna öppnas portaler i minnet.
150

kr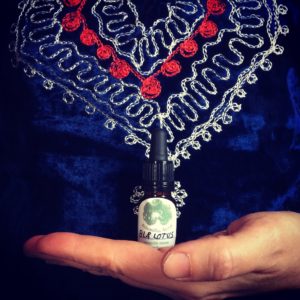 Sacred Blue Water Lily
"The sky was a midnight-blue, like warm, deep, blue water, and the moon seemed to lie on it like a water-lily, floating forward with an invisible current." – Willa Cather

The Sacred Blue Egyptian Water Lily is deeply relaxing for the body and mind, it is hypnotic and sedative. It is also a cardio-tonic – strengthening the heart. It is also an aphrodisiac.

An aid for yogis as it is a plant for meditation. It is also a helpful herb for dreamwork. The blue-violet color of this flower is a signature of the affinities with the third eye and the crown chakra.

From the murky dark mud it rises up bestowing magnificent blossoms. It shows us our experience in human evolution, as it blooms – so can we. It is a metaphor for our reunion with oneness. I connect this flower to the divine feminine creative power, Shakti.
Shakti is both responsible for creation and the agent of all change. Shakti is cosmic existence as well as liberation, its most significant form being the Kundalini Shakti, a mysterious psychospiritual force.
150

kr