Linden
150 kr
"Love is space and time measured by the heart." – Marcel Proust
Hjärtats minne

Lindblom kyler inre hetta, feber och när huden hettar. Den är också behjälplig vid rastlöshet, hyperaktivitet och panikångest.
Lindblom stödjer andningsvägarna, bra att ta till vid influensa och för att få upp slem och snor som sitter djupt.

Lindblom lugnar nerverna och hjärtat och är bra för att drömma lucida drömmar. Lindblom är bra för den typ av ångest som känns i hjärtat, sömnlöshet och stress. Lindblom verkar sederande.

Marcel Proust var den första att mynta begreppet "Ofrivilliga minnen" i romansviten "På spaning efter de tid som flytt". Proust såg dessa ofrivilliga minnen innehålla det förgågnas essenss, som han ansåg saknades i ett frivilligt minne. I romanen beskriver han en händelse där han äter en lindblomstedoppad madeleinekaka, och ett barndomsminne av att äta en lindblomstedoppad madeleinekaka uppenbaras för honom. Från detta minne följer minnen av hela hans barndom, huset han bodde i, den lilla staden och dess invånare. Detta är temat genom romansviten , via känselportalerna öppnas portaler i minnet.
Categories: Mercury, Singular Spagyric Tinctures, Sun
Tags: cardio-tonic, dreamwork, fever, flu, heart, heat, insomnia, Linden, lucid dreaming, memory, panic attack, restlessness, stress, sun, Tillia Cordata, tree
Description
Take 7-14 drops directly on the tongue or in a little tea when in need.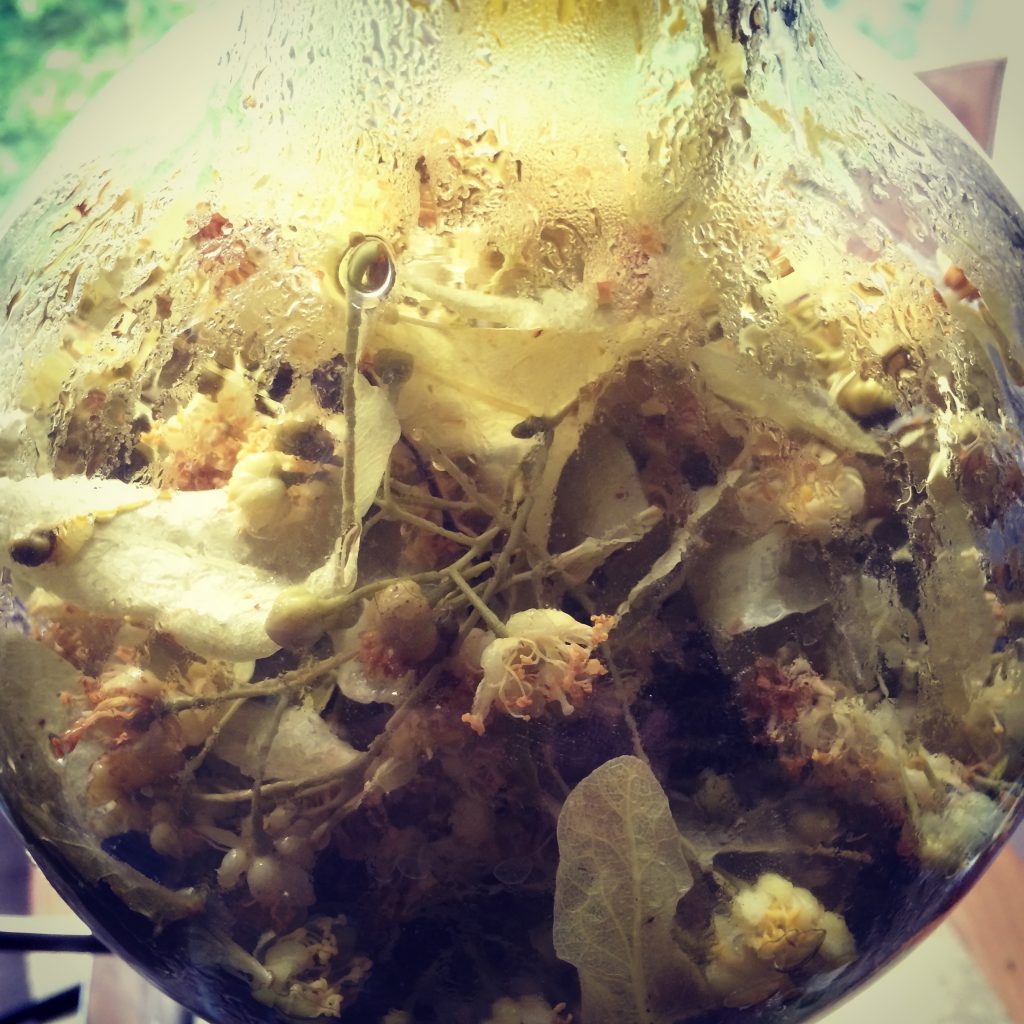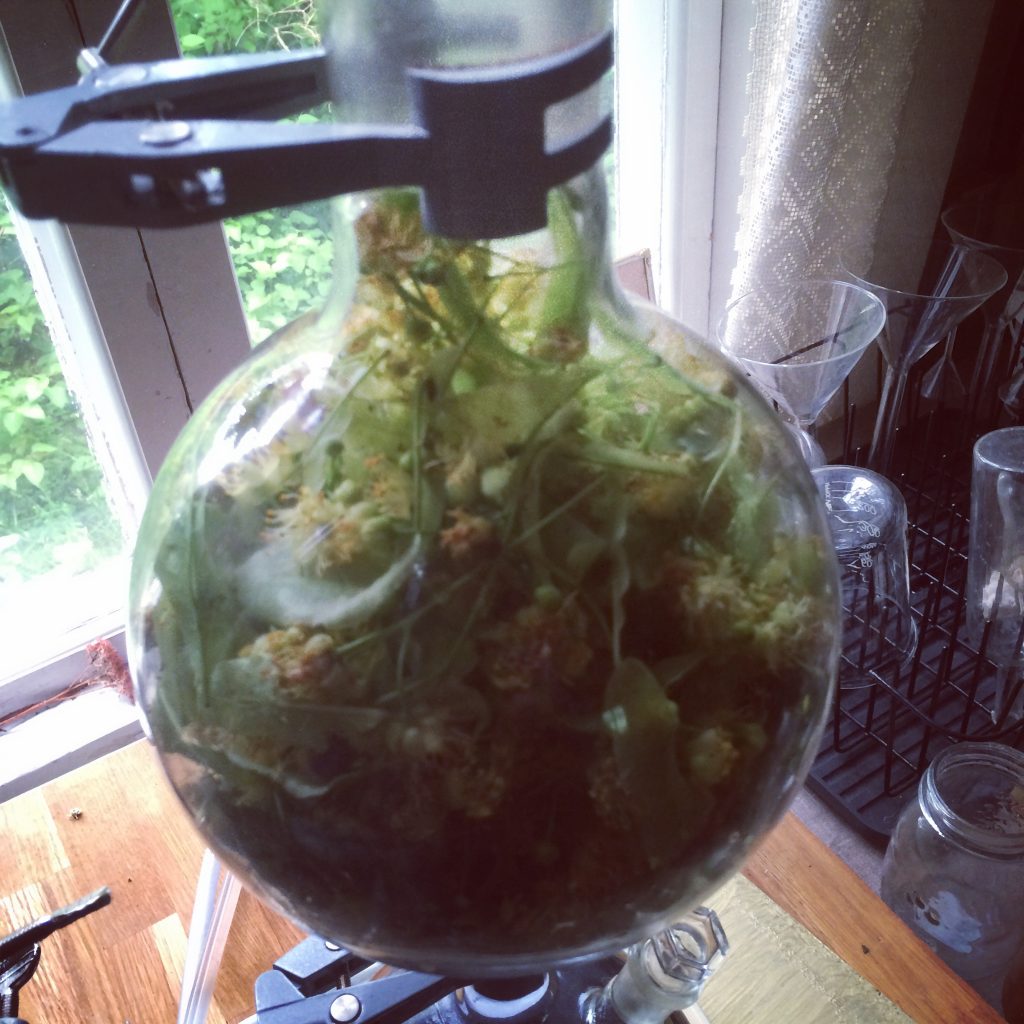 Related Products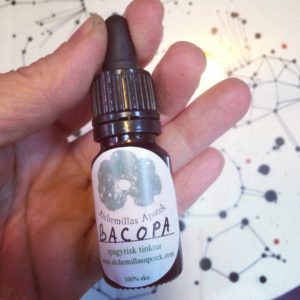 Bacopa
[:en]Aka "Stronger Brahmi", "Water Hyssop", "the divine great drug", "Herb of Grace"

Brahmi is a nootropic herb and its uses in neurological and psychiatric disorders are well recognized. Bacopa is a nerve tissue builder and cardio-tonic, it relieves stress, aids respiratory tract problems such as asthma, bronchitis, cough but foremost it is used for nervous exhaustion, to improve memory and as a "brain-food".

Bacopa increases comprehension, concentration and recollection. In India it is used for ADHD. It gives focus to scattered minds. It gives overview instead of millions of separated details, it makes you see the patterns.

The ancient Ayurvedic sages, who were also great physicians, revealed Brahmi's role in promoting Medhya (intellect), Ayushya (longevity), Rasayana (rejuvenation), Prajnasaktivardhana (intellectual power), Hrdaya (Heart), Majjadhaty Rasayana (nervous system rejuvenation), Balya (strength, especially mind), Jivaniya (life energy), Nidrajanana (sleep), Dhana (wealth), Svara (voice), Varna (complexion) and Anuloma (redirecting the flow of vata downwards).
It is not for nothing Bacopa is referred to as The Divine Drug.
[:sv]Brahmi, Den gudomliga medicinen, Nådens Ört

Bacopa är en nootropisk ört och dess användning för neurologiska och psykiatriska obalanser är väldokumenterade. Bacopa bygger nervvävnad, stärker hjärtat genom att den stödjer oss i att hantera stress, är bra vid luftvägsproblem såsom astma, bronkit, hosta. Men den används främst vid utbrändhet, för att förbättra minnet och som en "brain-food".

Yogis och andra som mediterar använder Bacopa för att öka förståelsen, koncentrationen och minnet. I Indien används Bacopa av de som diagnosticeras med ADHD med mycket goda resultat. Bacopa är bra när man känner sig splittrad och har svårt att fokusera. Den ger översikt i stället för miljontals separata detaljer och ger stöd att skönja mönstret.

I de tusenåriga ayurvediska texterna lovordas Bacopas stödjande egenskaper för Medhya (intellekt), Ayushya (livslängd), Rasayana (föryngring), Prajnasaktivardhana (intellektuell kraft), Hrdaya (hjärta), Majjadhaty Rasayana (föryngring av nervsystemet), Balya (styrka, särskilt sinnets), Jivaniya (livsenergi), Nidrajanana (sömn), Dhana (rikedom), svara (röst), Varna (hy) och Anuloma (omdirigera flödet av vata nedåt). Det är inte för inte Bacopa kallas för den gudomliga medicinen.[:]
150

kr