Astrala Elixir
Livselixir baserat på astrologi
"Man is a microcosm, or a little world, because he is an extract from all the stars and planets of the whole firmament, from the earth and the elements; and so he is their quintessence." – Paracelsus
Utifrån ditt födelsehoroskop skapar jag ett personligt sammansatt spagyriskt elixir för att stödja flödet av din livskraft utifrån dina astrologiska och elementära förutsättningar.
Jag har inspirerats av Nicholas Culpepers Astral Formula och har en utvecklad astrologisk intuition.
Min gåva är förmågan att matcha örternas egenskaper med människans, zodiakens och himlakropparnas arketyper.
Detta är inte en traditionell astrologisk konsultation utan fokus ligger på örterna och hur livskraften manifesteras i dig och hur örter kan stödja flödet av denna vitalitet.
Jag behöver veta datum, tid och plats för ditt födelseögonblick. Du får sammanlagt 50 ml individuellt komponerat elixir samt konsultation per telefon eller skype 1-2 timmar till kostnad av 1500 kr. Frakt tillkommer.
Beställ via email.
Related Products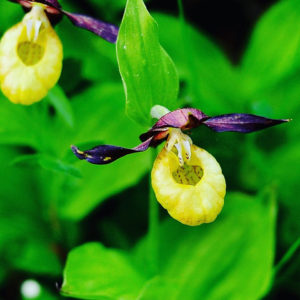 Guckusko
[:en]"Seek the wisdom that will untie your knot. Seek the path that demands your whole being."
– Rumi

Samuel Thomson considered Lady´s slipper as one of the most important nervines. He used it for any complaint of nervous character. This orchid restores the nervous system as well as the sexual system. Lady´s slipper is connected to the second, sacral chakra, sexuality and possibility. Connecting us with the realm of the imagination.

Paracelseus said that if a plant resembled a foot, it was good for the foot. What does this mean in this case? The foot represents the possibility of wandering , while the shoe represents the protection of the wanderer. When the right thing appears one cannot do anything else but commit oneself to it. There is no tension between the outer and the inner personality, there is a perfect fit.
When people commit themselves to something that doesn´t fit they grow restless and doubtful. Life has no stability. Emotions flip back and forth. This is the remedy for when one doubts what one knows to be true.

When we follow the images that rise up from the depths if our soul, it may appear like a foolish path to others, even to ourselves at times. Our promptings start as seemingly adolescent dreams of glory, but they lead to true authority.
As we follow this path we become more and more innatly who we are because the images that emerge within us are the expression of our inner self. Walking the path of ones calling.[:sv]"Sök efter visheten som löser din knut. Sök vägen som kräver hela ditt varande."
Rumi

Samuel Thomson skattade Guckusko som den främsta örten för nerverna. Han använde Gucksko för alla slags problem som rörde psyket.
Denna orkidé stödjer nerverna liksom sexualiteten och libido. Guckusko har med det andra chakrat , sexualitet och möjligheter att göra. Den stödjer oss i vår vandring i fantasins rike.

Paracelseus sa att om en växt såg ut som en fot så var den bra för fötterna. Hur ska man tolka detta? Jo, foten representerar möjligheten att vandra, medans skon representerar vandrarens skydd. När det rätta uppenbarar sig kan man inte göra annat än att hänge sig till det. Slitningen mellan den yttre och den inre personligheten upphör, en perfekt passform som askungens sko.
När man åtar och dedikerar sig åt någonting som inte passar en blir man rastlös och fylls av tvivel. Livet har ingen stabilitet. Känslorna flippar fram och tillbaka. Guckusko är medicinen för den som tvivlar på det en vet är sant.

När vi följer visionerna som lyfter från vår själs djup, kan andra tycka att det verkar vara ett dumt spår att följa, och vi själva kan börja tvivla likaså. Vår strävan kan börja som en till synes tonårsaktig dröm , men den leder fram till sant ledarskap.
När vi följer den här vägen blir vi mer och mer de vi föddes till att vara, därför att visionerna som uppenbarar sig för oss är uttryck för vår sanna natur. Man vandrar sin egen väg för man har ett kall.[:]