Hydrosol of Thymus Vulgaris
70 kr
Flowery and sweet scent.
Hydrosol of Thyme may be used for:
Acne. I recomend using the spagyric tincture internally and the hydrosol to spray on areas with acne.
Flu and cold, spray around you and take 1 teaspoon in a little warm water. For children with a flu or cold, 1/2 teaspoon. It supports the immunesystem and is disinfectant.
As a mouthrinse after brushing the teeth, for children prone to caries.
Very tasty in cooking.
Yeast and fungal infections, candida.
Thyme has a strengthening effect on the mind. Thyme stimulates the Thymus gland and the adrenal cortex, which improves immunity and self-identity.
Category: Hydrosols
Tags: acne, candida, caries, cold, disinfectant, flu, immunesystem, strength, thyme, Thymus Vulgaris, venus
Description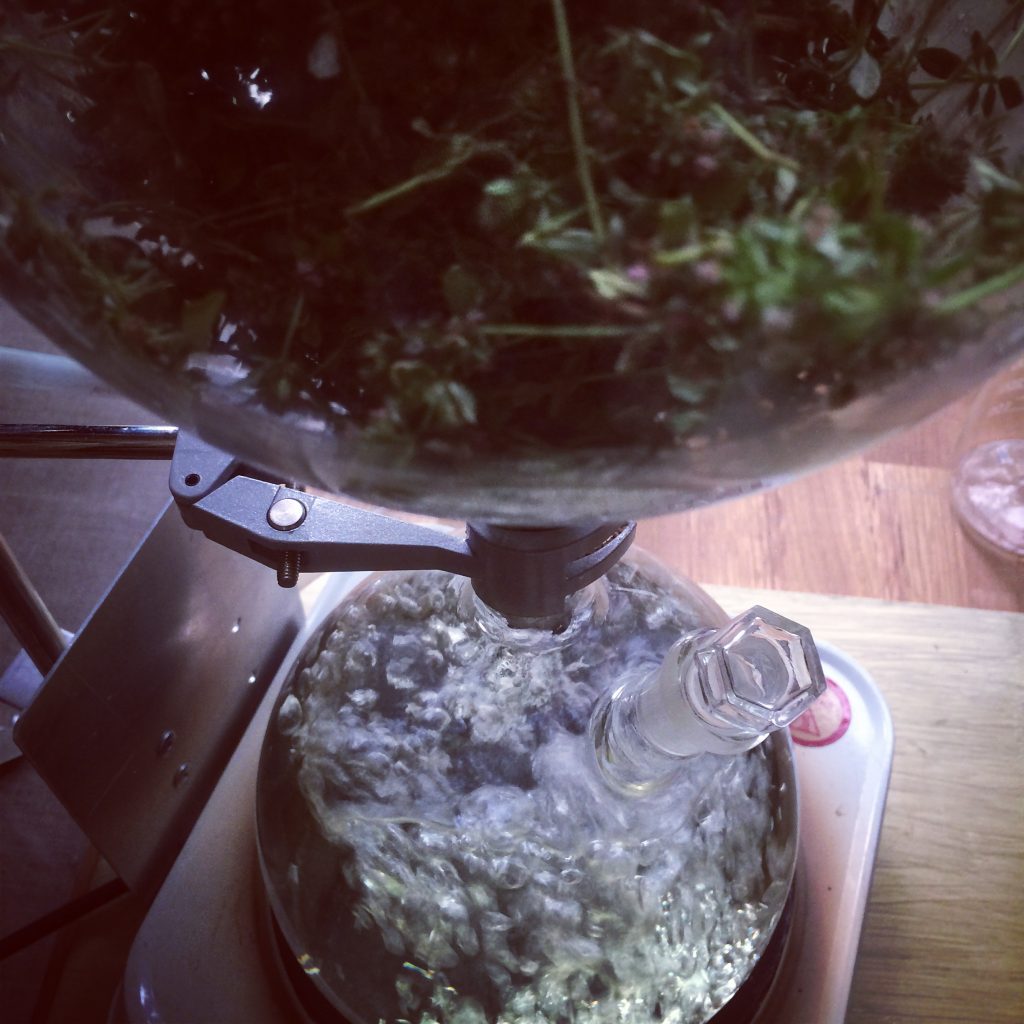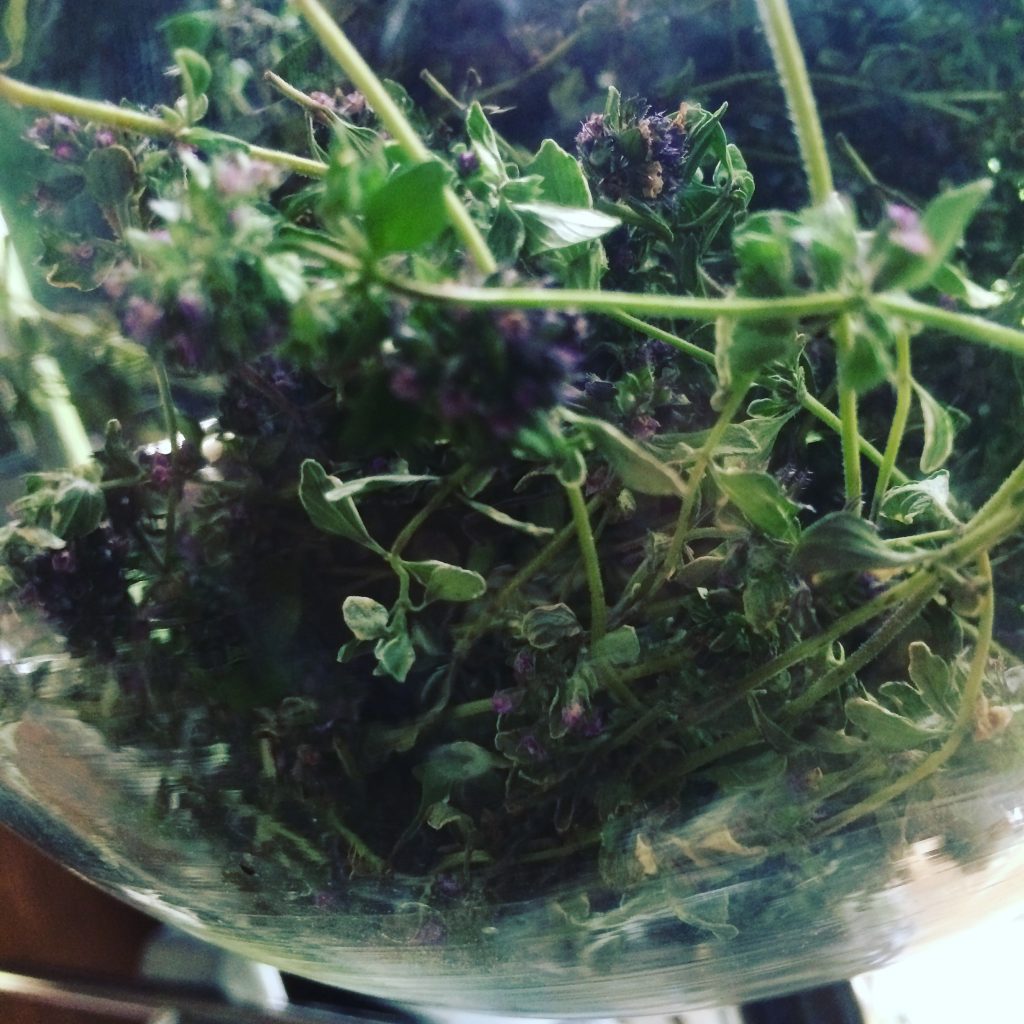 Related Products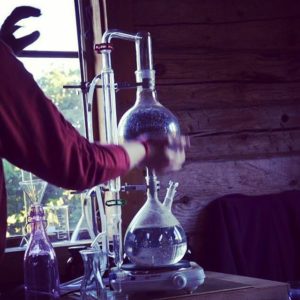 More Hydrosols
[:en]MORE HYDROSOLS
Hydrosols are the distilled herbal waters from the process of steamdistillation of essential oils.
In alchemy the sulphur principle represents the initial light and the source of life, and it manifests in the essential oil, which is the soul of the plant. So hydrosols contain the soul of the plants and they operate especially on the level of the soul.


It is possible to order other hydrosols from me than the ones listed in the shop. I distill regularly as a part of the spagyric process and I want to share what I do not need for spagyrics or what we use in my family. We bathe with hydrosol in the water, we drink them diluted, use them in cooking, as skincare , medicinally, for cleaning and laundry, to alter the vibration in a space or change of mood. We use them daily. Children and animals are very fond of them.
Just specify which one you would like to order.
They all come in a 30 ml brown glass bottle with a spraypump.
The price is 70 kr + shipping.
All hydrosols should be diluted in water before taken internally.
5-12 months stability. Keep dark, cool, preferably refrigerated.
The herbs I distill are grown organically in my garden or by friends, or grow in the wild.
They are harvested and distilled at astrologically optimal moments.[:sv]ÄNNU FLERA HYDROLAT
Hydrolat är örtvatten som skapas under ångdestilleringen av eteriska oljor.
I alkemin är svavelprincipen, som representerar ljuset och livets källa, manifesterad i den eteriska oljan, som är är växtens själ. Hydrolaten är med andra ord besjälade och verkar verkligen i en högre frekvens och på en själslig nivå.

Hydrolat kan användas både invärtes (men då ska de spädas med vatten) och utvärtes för hälsa, skönhet och lust.
Hydrolaten säljs i 30 ml bruna glasflaskor med spraypump och kostar 70 kr styck + frakt.
Hydrolat bör förvaras svalt och mörkt, ett kylskåp är optimalt.
Ett hydrolat har en hållbarhet på 5-12 månader.
Växterna jag destillerar har jag odlat och skördat i min trädgård eller plockat i naturen och destillerat i astrologiskt optimala ögonblick. Givetvis är örterna odlade utan gifter.
Det är möjligt att beställa andra hydrolat än de som finns i den här affären. Jag destillerar regelbundet som en del av den spagyriska processen och jag vill dela med mig av det jag inte behöver i min spagyriska praktik eller som jag och min familj inte använder. Vi har hydrolat i badvattnet, vi dricker dem, lagar mat med dem, läker oss med dem, sprayar dem runt oss för att förändra atmosfären eller humöret, städar med dem, använder som hudvård, vi använder dem dagligen. Barn och djur är väldigt förtjusta i hydrolat.
Jag har gjort en lista på hydrolat som går att beställa med en del nyckelord.
Om du vill beställa är det bara att skriva vilket hydrolat du vill ha.[:]
70

kr