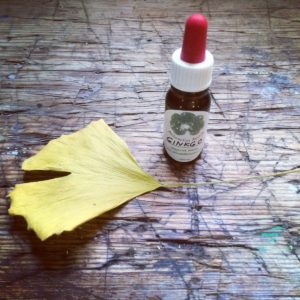 Ginkgo
Ginkgo have lived for 300 million years on our earth.

The leaves of the Ginkgo tree contain different active substances at different stages, so I harvest thrice. Ginkgo improves circulation, it supports the heart and improves blood flow in tissues and organs, which protects cells against damage by oxidation by free radicals.
Ginkgo is thus an antioxidant and improves absorption of nutrients, providing vital oxygen supply to each cell. It aids vision and hearing-related problems due to these properties. It is also these characteristics that support memory. It is a brain-tonic.

Ginkgo is good against fatigue, gives energy and is good for depression by the particular phytochemicals it contains. Ginkgo is one of the nootropic plants that improve mental functions such as cognition, intelligence, motivation, memory and concentration.

Something interesting with the leaves of Ginkgo is that they look a bit like the two halves of the brain. Nature communicates with us via the doctrine of signatures, the signs of nature.
150

kr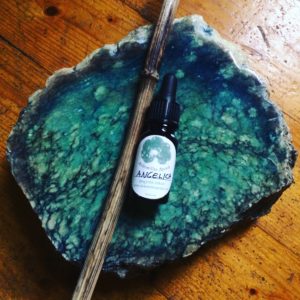 Angelica
As above – So below

Angelica is bitter, warming and aromatic.
It can be useful in treatment of swellings, inflammations and glandular indurations, particularly of the head and neck region. Good for circulation, for cold hands and feet. Used for fever.
It is good for anguish, spasms, nervous excitation and fatigue; calms excess in both the sympathetic and parasympathetic branches of the autonomic nervous system. It is good for PMS and excessive bleeding while menstruating.
Can be used for for arthritis and gout. Good for the liver, increases digestion and metabolism of oil and production of bile, hence increases digestion and nutrition. It relaxes the throat and makes it easier to take long deep breaths. It simultaneously opens the imagination and the mind when prana (life force through breath) can flow.

Angelica is an important Shamanic plant among the Saami people of the North.
In Native American herbalism it is referred to as a "Bear Medicine". Just as the bear goes into hibernation through the winter, bear medicine usually relax the mind, open the imagination and bring people into dreamtime. Angelica certainly has this capacity.
Bears eats these roots upon awakening in spring to wake up, clear their throat and start rebuilding their mass.

I see Angelica as an embodiment of the Alchemical device "As above so below".
The deep aromatic root and the umbrella-like flower full of starlike seeds are connected through a hollow stem, a channel connecting the heaven and the earth. This is one of the effects the Spagyric Tincture may have upon you – making you feel like this channel.
Angelica connects you with your guardian angel, or if you prefer to call it your higher self.
150

kr