Venus
Copper/Friday
---
Love, harmony, relationships, art, music, creativity, feminine, beauty, friendship, complexion, kidneys, abdomen, breasts, female sexual organs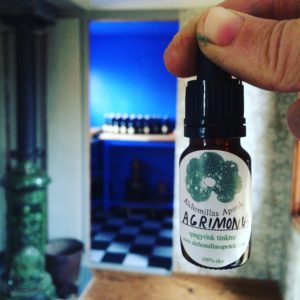 Agrimony
"Torturedly cheerful"

An astringent that tones the tissues but is used to relax the tissues. It is this paradox that is the magic that agrimony shares with many other medicinal plants.
States of stress such as spasms of the stomach, tension headaches, menstrual cramps where the person tries to hide it by pretending that everything is ok, "torturedly cheerful"
Pain in the spine, flu when you have pain in your joints.
Agrimony is also good for the kidneys and liver, poor digestion (indication: fat and undigested pieces of food in the poo), prevention of gall and kidney stones.
Incontinence, cystitis, urinary tract infection.

Agrimoy is superior for releasing tension and spasm, both on a physical and a psychological level. Agrimony is specifically indicated for those who try to hide their pain with a smile, behind a sophisticated and easy-going facade. Matthew Wood (The Earth Wise Herbal Vol 1) uses the phrase "torturedly cheerful" and it is very fitting.

Agrimony supports the connection between the brain and the other brain – the gut feeling, the enteric system. Agrimony is about strengthening the gut and is good for people who get pain in the belly out of concern and worry, around meals and eating or nervous, tense social situations. Pressing the emotions down into the gut.
80% of Serotonin is produced in the gut, far more than in the brain. One should never underestimate the gut feeling.
150

kr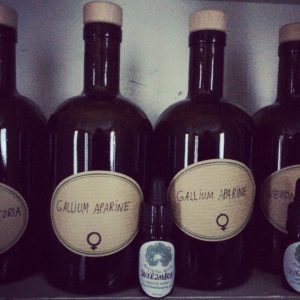 Cleavers
"Life in us is like the water in a river. "
– Henry David Thoreau


Cleavers supports the flow of the fluids of the body such as the flow of the lymphatic system. It supports the kidneys and urinary tract . Cleavers strengthens the immune system. It gets stagnant chi (life force) moving where it has accumulated in hot spots.

Cleavers also works on the flow of emotions, to be fluid, flexible and to help us in breaking patterns and relationships one has been clinging on to but is no longer beneficial. This is a signature as cleavers clings to everything that comes in it´s way like velcro.
I have found it to be helpful for smokers to quit the habit and even more so for balancing relationships where one person is clinging and the other one is taking a distance.

Cleavers may be beneficial in writers block and when one feels stuck artistically.
Cleavers has to do with flow and creativity on all levels.
150

kr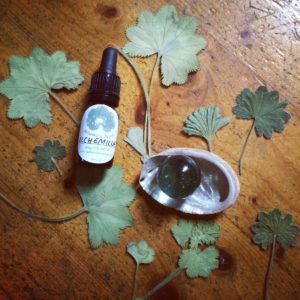 Lady´s Mantle
The Alchemist distills the Gold of a Thousand Mornings.

Lady´s Mantle has a time honored traditional use as a woman's healing herb. Lady´s Mantle has astringent and styptic properties, on account of the tannins it contains. It is a very healing herb for the womb and can be helpful for painful menstruations. It is a fertility herb, also good to use during and after pregnancy.
As a heart-tonic Alchemilla can be combined with prescribed medications. Strengthens the arteries. Good for swollen feet and legs.

The botanical name, Alchemilla, or "little alchemist" speaks of the uses of Lady's Mantle which have the ability to transform. Matthew Woods writes an account of this in The Book of Herbal Wisdom.
The alchemists found interest in the fact that the morning dew gathers like a translucent pearl in the center of the fan-like leaves, well into almost mid-day, when other plants are all dried off.
"Something within it is distilling the essence and simultaneously helping to preserve it. In a material sense Alchemila must correspond to processes which encourage cohesion on the surface of the droplet and prevent vaporization, while at the same time (and plants seem to work in two opposite directions) it must possess the ability to refine and distill fluids into their most subtle expression or essence."

In the same way in which the subtle, invisible membrane preserving the cohesion and integrity if the droplet is maintained, we can imagine Alchemilla making a subtle, invisible membrane around a person. It is encouraging integrity and cohesion. It works uplifting and empowering. It is about a kind of inner circulation and distillation.
It is healing to the emotional waters of the body and supports healing from sexual trauma.
150

kr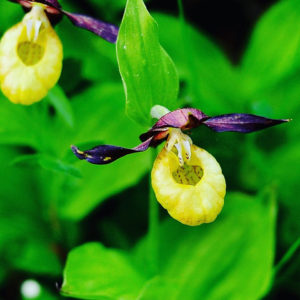 Lady´s Slipper
"Seek the wisdom that will untie your knot. Seek the path that demands your whole being."
– Rumi

Samuel Thomson considered Lady´s slipper as one of the most important nervines. He used it for any complaint of nervous character. This orchid restores the nervous system as well as the sexual system. Lady´s slipper is connected to the second, sacral chakra, sexuality and possibility. Connecting us with the realm of the imagination.

Paracelseus said that if a plant resembled a foot, it was good for the foot. What does this mean in this case? The foot represents the possibility of wandering , while the shoe represents the protection of the wanderer. When the right thing appears one cannot do anything else but commit oneself to it. There is no tension between the outer and the inner personality, there is a perfect fit.
When people commit themselves to something that doesn´t fit they grow restless and doubtful. Life has no stability. Emotions flip back and forth. This is the remedy for when one doubts what one knows to be true.

When we follow the images that rise up from the depths if our soul, it may appear like a foolish path to others, even to ourselves at times. Our promptings start as seemingly adolescent dreams of glory, but they lead to true authority.
As we follow this path we become more and more innatly who we are because the images that emerge within us are the expression of our inner self. Walking the path of ones calling.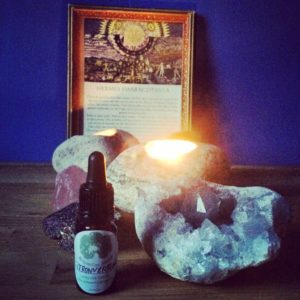 Lemon Verbena
When life gives you lemon verbena, make Chartreuse.
An alchemical recipe reached the religious order's headquarters at the Grande Chartreuse monastery, in Voiron, near Grenoble. It has since then been used to produce the "Elixir Végétal de la Grande Chartreuse". Only two monks in a lifetime know the secret ingredients. Lemon verbena is one of them.

Antioxidant and strengthening for the immune system. Lemon Verbena reduces inflammation and fevers and may be beneficial for joint-pain, menstrual pain. Lemon verbena supports the digestive systems and may help to regulate appetite.

Lemon verbena stimulates the endocrine system, is reducing stress and nervous tension. It is uplifting and moves the spirit when one feels mentally stuck and calms down at the same time. It is nice to take in the early evening to wind down.

Lemon verbena has to do with the appetite for life. It may be helpful in clarifying intuitive insights and guidance, as well as feeling shielded and protected from negative or hostile energy sources. It helps one to continue to feel good no matter who is around.
150

kr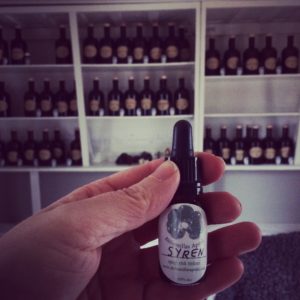 Lilac
"The lilac branches are bowed under the weight of the flowers: blooming is hard, and the most important thing is – to bloom." ( A Story About The Most Important Thing )
– Yevgeny Zamyatin


Syringa means tube in latin and the signature is the spine, our inner tube filled with cerebrospinal fluid. The branches of lilac are hollowed and may be used for pipes or flutes.

Another signature to the spine is it´s lilac colored flowers that correspond to the crown chakra, at the top of the spine. Lilac helps to align one´s spirit with ones spine.
Ida and Pingala are the energy channels that flow around the spine according to Tantra and Kundalini yoga. Lilac stimulates the flow of these channels in solving blockages that prevent us to evolve. Lilac has to do with flexibility, releasing and no longer holding back on our development.

Lilac may be used to straighten and unblock not only the spine, the head and the energy that circulates through them, but also to align one´s spirit and nourish it. It may ease grief, oppression and fright that comes from long ago, perhaps from childhood. A feeling of dis-ease, lack of safety, or a sense of holding back the true self often shows up as rigidity or pain in the spine.
The Lilac corresponding behavior pattern is that of someone who is constantly scanning the surroundings in case of danger. In Greek mythology Syringa was a nymph that turned herself into a Lilac tree when Pan threatened her.
150

kr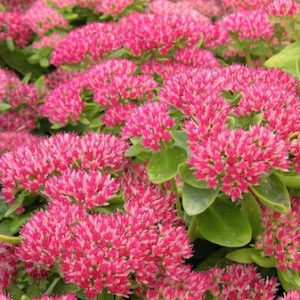 Live-long
Love is the answer.
Long live the power of love!

According to Hieronymus Tragus, a german botanist , priest and physician who lived in 1500, Long-live is good for close to everything,  lung, kidney, bowel  and liver-problems. Later on it has been established that this herb possesses anti-inflammatory and immune-stimulant attributes, as it encloses two vital polysaccharides. It is understood that the two polysaccharides are likely to facilitate in slowing down the growth of tumours and, at the same time, augment the action of phagocytes that are effective in eliminating bacteria and viruses.
The whole live-long herb is considered to be astringent and cytostatic (any substance that retards/ slows down cell growth and cell division) – the reason why the herb is effective in treating tumours. Live-long also has a tonic action on the kidneys and is known to be helpful in treating cancer.

Live-long is a wound healer on all levels. On the outside of the body, and internally. Woundhealers may affect the wounds of the soul as well.

Live-long lives up to it´s name! It has almost a miraculously long life-span and survives exceptionally long witthour any soil or water needed. It is very tasty and healthy to eat. Try the leaves in salads, fried as tempura, or in a gazpachio instead of bell-pepper.
In folkmagic Live-long protects the home against the lightening if it grows on the roof and is known to bring good luck.
Long-life grows everywhere on this earth. In both tropical and cold climate.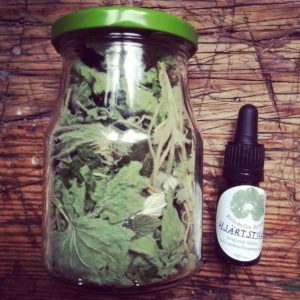 Motherwort
"It takes courage to grow up and become who you really are." – E.E. Cummings

Motherwort supports the physical and emotional heart, the nervous system and the female urogenital tract. Motherwort brings on delayed menstruation and eases menstrual cramping and pain, PMS and eases childbirth.

Motherwort is indicated in cases of anxiety that is felt like a tension of the heart or palpitations of the heart.

Motherwort is a representative of the sacred feminine, the Great Mother. She wants to connect all of us (men, too) to the divine feminine energies. To be brave, to open the heart, to give and receive love.
Motherwort has a lot to do with being courageous and what the essence of motherhood actually is.
150

kr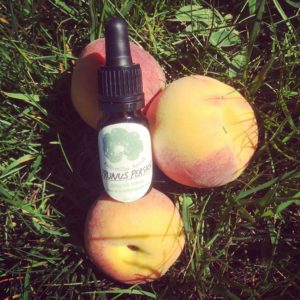 Peachleaf
"There are a whole lot of things in this world of ours you haven't started wondering about yet. "
– Roald Dahl, James and the Giant Peach



The action of peachleaf moisturizing and cooling, helps when there is inflammation, inner heat and an overactive autoimmunesystem. Good in urineinfection when there is a burning sensation, morningsickness, dry caugh and allergy.
Peachleaf is suitable for those who easily get burned by the sun, have delicate skin and easily become red or get rashes.

Peachleaf is good for the restless, insomnia, worry and nervousness and is suitable for overactive children. Good for highly sensitive people.

In China it is believed that the peachtree possesses abundant vitality, more than any other tree and the peach is a symbol for longviety.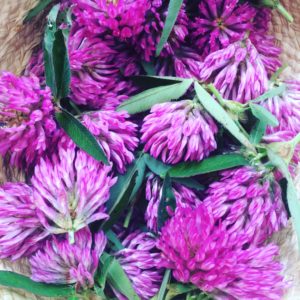 Red Clover
"To make a prairie it takes a clover and one bee, One clover, and a bee, And revery. The revery alone will do, If bees are few. "
-Emily Dickinson


Red Clover is a blood purifyer. Therefore it is good for exzema and acne. It is good as a detox.
Because of its concentration of the phytoestrogens daidzein and genistein, which mimic the activity of estrogen, red clover has been studied for its use in alleviating the discomfort of menopause and PMS.

Red Clover has a mildly tonic effect on the nerves, which in turn eases indigestion, nausea and headaches.

"Plants with three leaves are sometimes used to discuss the nature of trinity or manifestation with the numerical value of three. The rarity of the four-leved plants has developed a widely held belief that they bring luck."
From "A compendium of Herbal Magick" by Paul Beyrl.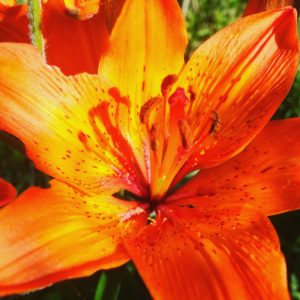 Tiger-Lily
" O Tiger-lily" said Alice, addressing herself to one that was waving gracefully about in the wind, "I wish you could talk!"
"We can talk", said the Tiger-lily, "when there´s anybody worth talking to."
Alice was so astonished that she couldn´t speak for a minute… At length, as the Tiger-lily only went on waving about, she spoke again, in a timid voice – almost in a whisper.
"And can all the flowers talk?"
"As well as you can," said the Tiger-lily. "And a great deal louder."
– Lewis Carroll , Through the Looking Glass.

It is a tigress of a plant and suitable for vibrant , wild and rowdy women! ( or men who identify with this flower and character)
Tiger-lily may be a helpful ally in case of IBS, painful periods, characterised by cramping pain and an intense dragging down or bearing down sensation.Haemorrhoids, with a dragging down sensation described above, are quite common. Rapid pulse. In Traditiona Chineese Medicine tigerlily is used for infertility and cysts in the womb, eggholders etc.
Good for acne.

Rapid mood swings ,easily provoked, so that they dip into irritability with the greatest of ease. While they are often easy-going, generous and sincere, they can flick into nastiness, anger and outright rage. This can be to the point of wanting to hurt, to hit out or slap. And they can be extremely over-sensitive, taking offence at the slightest perceived slight.
There are several remedies which have the characteristic of hurriedness. Tiger-lily is suited for those who feel pressured to do things quickly. They want things done at speed by themselves and by others. They become irritated if events are slower than they feel they should be. They hate people dithering in front of them. This sense of hurridness can have the effect of becoming inefficient. They try to do too many things at once, begin to get irritable, then fail to achieve any of the tasks.
As a result of the hurriedness they often feel this wild and crazy feeling at the top of the head. The thoughts come too fast, get jumbled and they feel confused. And when this happens they feel even more irritable. They can, accordingly, become quite hysterical in their reactions.

A characteristic conflict often centres around sex. They may feel torn in two directions, wanting to be a saint one moment and a sinner the next. Conflict between intellect and instinct, innocence and experience. Tiger-Lily has to do with accepting ones shadow , reconciling the opposites that resides within us.
Craving meat is quite common and attempts to go vegetarian, for whatever reason, often fail. And that isn´t surprising, being a tiger!
This georgeous orange plant transformed into an equally georgeous orange spagyric tincture. Orange is the color of the sacral chakra, the second, Svadhisthana. It has to do with creativity, sensuality and emotions.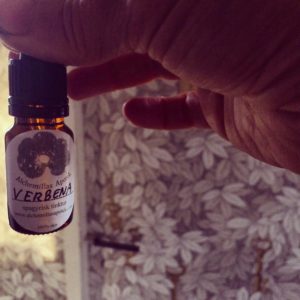 Vervain
Sacred herb of the druids.

Bitter tonic – good for digestion, moving stuck liver energy, nervine – good for burnt-out nervous system, relaxant – especially for tension in the neck, shoulder, head region, very good for painful menses and PMS, also for hot flashes.

Vervain helps the entrepreneur to unwind and stop working at home. It is indicated for list makers, for people with mental excess as it moves the energy downwards and works as a remedy of embodiment. Vervain people tend to neglect themselves, they forget to eat, drink water, clean the house, exercise etc.
Instead they tunnel vision on their goal and loose sight of other important facets of their life which can fall wayside.

Indicated for driven visionaries that can burn out from over exhaustion yet be constantly striving. Vervain helps the soul to center and ground its tremendous enthusiasm. The body becomes a natural regulator and harmoniser for the abundant spiritual forces that pour out of such a person, a soul that is able to inspire, lead and heal others.
150

kr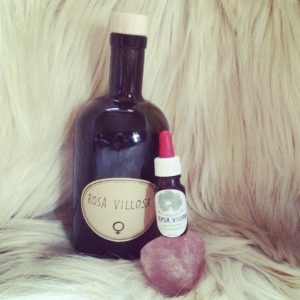 Wild Rose
The secret of the heart

The medicine of the Rose is healing to the emotional heart as well as a remedy for the physical circulatory system. It is a cardio-tonic, cooling and astringent.

Rose is also a brain-tonic known to be a medhya in Ayurveda, that is, it enhances dhi dritti smriti. These are the three primary functions of the brain for the actions of registering, storing and recalling knowledge and information. When they are operating in a balanced and coordinated manner, the brain is in a stress-free state of bliss.
Rose is a support when processing strong feelings and good when making important decisions.

First and foremost, Rose is a healer for the heart. It evokes beauty, openness and gentleness. To walk in beauty. The rose opens the heart chakra and her teaching is to love ourselves.
150

kr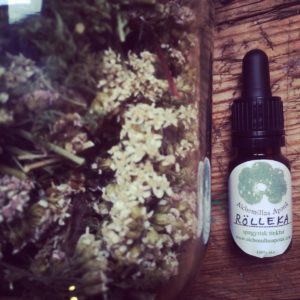 Yarrow
The Wounded Warrior/The Wounded Healer

Yarrow is a fever remedy, It is also a bitter tonic that promotes digestion. The application as a wound remedy is prehistoric.
Because yarrow has such a strong affinity to the blood and bleeding, it is an important female remedy. It works both ways, to staunch excessive bleeding and to break up stagnant blood. Yarrow is a menstrual regulator. It is useful for irregular menstruation, mental restlessness in menopausal women and inflammation of the ovaries.
Yarrow is indicated for bleeding hemorrhoids. Use a compress with an infusion or hydrosol of yarrow topically and the spagyric tincture internally.

Yarrow both dulls pain and heightens consciousness. In a similar manner, it causes bleeding, stops bleeding, and breaks up stagnant, coagulated blood. Paradox is common in herbal medicine.

It is a warrior remedy. Named after the immortal Greek warrior, with the exception of his weak spot on his ankle (the Achilles tendon), it gives us the strength to face our weakness. Yarrow goes to this spot and strengthens it, turning our weaknesses into strengths and talents.
This is also reflected in the myth of Chiron, the wounded healer. The union of paradox and the union of the feminine and the masculine. (venus: female reproductive system and kidneys , mars: blood, fever, immune system) The transmutation from the warrior into the healer.
The teaching of yarrow is that it is a healer of the sacred wound. It is the sacred wounds that heal us on a deeper level.
150

kr