Formulas
The spagyric formulas are recepies created for specific needs or purposes.
All  ingredients are organic, harvested and worked with in ceremony.
---
Read more about the art of spagyria here.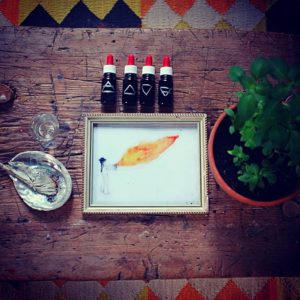 4 Elements
This is a series of spagyric tinctures dedicated to the 4 elements. The very building blocks of our universe and everything within it, including you.
The Medicine Wheel – 4 Elemental Elixirs to work with in Ceremony
Engage in a personal and universal ritual. Connect with the elements within and without you.
A suggestion is to light a candle and connect with the flame as you take the fire-elixir, connecting with your inner fire simultaneously. Out in nature by the water when taking the water-elixir to connect with water, within and without you. Follow your intuition and create your own rituals.
The elixirs can be taken seasonally. They can of course be taken just as one pleases, when you feel the need for Freedom, Flow, Inner Flame or Roots. The titles and the keywords give a key to what to be expected.
---
Special price
500 kr + shipping for all of the elements. Otherwise 150 kr + shipping each. Please specify which element/s you want. You can also order these by email.
150

kr