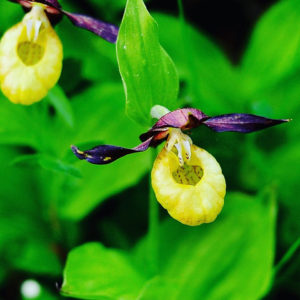 Lady´s Slipper
"Seek the wisdom that will untie your knot. Seek the path that demands your whole being."
– Rumi

Samuel Thomson considered Lady´s slipper as one of the most important nervines. He used it for any complaint of nervous character. This orchid restores the nervous system as well as the sexual system. Lady´s slipper is connected to the second, sacral chakra, sexuality and possibility. Connecting us with the realm of the imagination.

Paracelseus said that if a plant resembled a foot, it was good for the foot. What does this mean in this case? The foot represents the possibility of wandering , while the shoe represents the protection of the wanderer. When the right thing appears one cannot do anything else but commit oneself to it. There is no tension between the outer and the inner personality, there is a perfect fit.
When people commit themselves to something that doesn´t fit they grow restless and doubtful. Life has no stability. Emotions flip back and forth. This is the remedy for when one doubts what one knows to be true.

When we follow the images that rise up from the depths if our soul, it may appear like a foolish path to others, even to ourselves at times. Our promptings start as seemingly adolescent dreams of glory, but they lead to true authority.
As we follow this path we become more and more innatly who we are because the images that emerge within us are the expression of our inner self. Walking the path of ones calling.