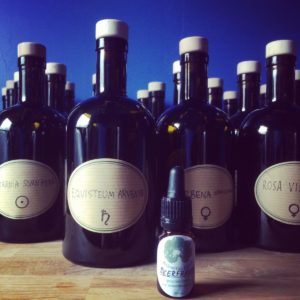 Horsetail
Horsetail is an important plant teacher for alchemists because it teaches about death, longevity, the quality of life and a long life. It teaches spiritual evolution.

Horsetail is full of minerals, especially silica which builds hair, skin, nails and connective tissue. The silica is not extracted by ordinary tincturing, but through the calcination process it is extracted spagyrically.
It is diuretic, draining water, working on the kidneys. It is is an astringent tonic which means that it brings tone to relaxed tissues.

It is helpful for nervous, tense and anxious people who bites on their nails and twirls their hair around a finger. It is grounding. Call on Horsetail to instill courage and strength. When you need to learn how to be firm, set boundaries and limits, learn to do things step by step with discipline.

Horsetail is a Saturnian remedy. The signature connection between the ringed planet and the ringed stalks.
According to Ayurveda, karma is stored in the bones. Saturnian remedies goes deep into our DNA – the karmic patterns and helps us to break the patterns that are no longer beneficial. Horsetail is a deeply initiatic remedy. It is one of the oldest plants in the world. They used to be as high as trees.
150

kr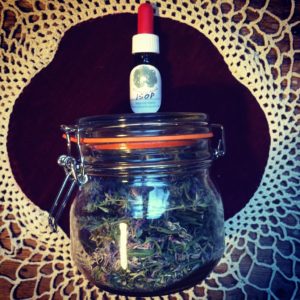 Hyssop
"Purge me with hyssop and I shall be clean."
Psalm 51:7, The Bible

Hyssop is a fever remedy, indicated in "slow fever" where nerves are affected so reactions and movements are slow, numb and weak. It is deeply penetrating, opening pores and passage ways deep inside the body, releasing heat through the skin. It acts cooling, lubricating, cleansing fluids, removing heat and congestion.
Mold growing on the leaves of hyssop produces penicillin.

David Dalton developed a profile for the mental state associated with hyssop that may owe something to the biblical concept. He recommends it for people who feel guilty, feel undeserving of happiness, fear punishment , fear pleasure and engage in self-sabotage.

Herbalist Juliette de Bairacli Levy recommends hyssop as a highly effective remedial agent in all forms of poisoning. Foxes are said to seek out this plant when poisoned.
If you feel you may be carrying some ancestral programming or karmic patterns, hyssop may bring clarity and clear this kind of metaphorically poisoning of the soul.
150

kr