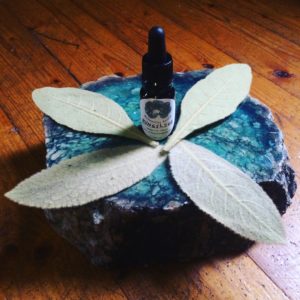 Mullein
Transforming what has turned hard soft again.

Mullein is an excellent remedy for the respiratory tract: lungs, throat and bronchi. The leaves are incredibly soft and it´s medicine is all about softening those things that have turned hard. This action exists on the physical level, as well as mental, emotional and spiritual. Physically, it moistens, softens, and lubricates irritated, dry and inflamed mucosal tissues, primarily in the lungs, and but also in the fluid spaces between the vertebrae (The Mullein-stalk looks like a spine) where the mucous is supposed to be fluid.
In the presence of excess heat there is a tendency to harden. Mullein softens this hardening and facilitates expectoration, easing inflammation and restoring the tone and secretions of the tissues.

The softening of what has turned hard aspect also works on the mental level. Mullein is good for people who are hard on themselves and overly critical in general.
Mullein stalks dipped in wax were used as ceremonial torches by druids. The torch-quality is a signature that Mullein is providing focus, enlightenment and grounding to those who feel they have lost their way or can't see their path. They often feel in the dark and disjointed, and the confusion may cause tension and a sense of abandonment. Mullein is for those who hide their light under cover and those who need a strong backbone.

Herbalist Matthew Wood tells: "Mullein is for people who think too much and congest the mind, or suffer mental tightness following difficult projects. It gives such a person a feeling like the mind is opened up to breezes on a fresh spring day"
150

kr