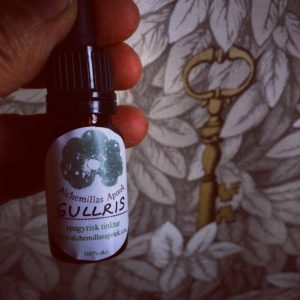 Goldenrod
Solidago comes from the Latin word solidus, which means: "whole" as in "to make one whole" or to bind or bring together.

Goldenrod supports the kidneys, is good for a cold stomach and low metabolism. It is a warming, bitter and pungent remedy that is stimulating and increases digestion.
Goldenrod can be helpful in allergies, especially cat allergy with red, watery, itchy eyes and itchy nose. It may also be helpful at the first stage of an urine infection.

For worn out people with tired and heavy feet. "Where is the nearest chair?" . Indicated for people who are too worn out to process life. Maria Treben relates how the kidneys help us to work out our emotions and if they become exhausted they slow down, the back and feet are tired and the urinary output is altered.

Goldenrod is a powerful internal cleaner and it is especially good to do a cure at the equinoxes, as the seasons change. Goldenrod connects you to your higher self (makes one whole). Initially emotions may be released as they are cleaned out from under metaphorical carpets but do not fear, a stronger connection to your higher self creates enthusiasm, abundance and a more cooperative feeling in the long run.
These initial feelings are the reliving of emotions and will pass as those emotions are released from the cleaning. This process can also affect one's dreams initially.
150

kr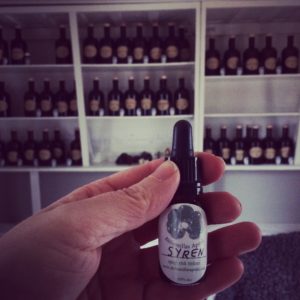 Lilac
"The lilac branches are bowed under the weight of the flowers: blooming is hard, and the most important thing is – to bloom." ( A Story About The Most Important Thing )
– Yevgeny Zamyatin


Syringa means tube in latin and the signature is the spine, our inner tube filled with cerebrospinal fluid. The branches of lilac are hollowed and may be used for pipes or flutes.

Another signature to the spine is it´s lilac colored flowers that correspond to the crown chakra, at the top of the spine. Lilac helps to align one´s spirit with ones spine.
Ida and Pingala are the energy channels that flow around the spine according to Tantra and Kundalini yoga. Lilac stimulates the flow of these channels in solving blockages that prevent us to evolve. Lilac has to do with flexibility, releasing and no longer holding back on our development.

Lilac may be used to straighten and unblock not only the spine, the head and the energy that circulates through them, but also to align one´s spirit and nourish it. It may ease grief, oppression and fright that comes from long ago, perhaps from childhood. A feeling of dis-ease, lack of safety, or a sense of holding back the true self often shows up as rigidity or pain in the spine.
The Lilac corresponding behavior pattern is that of someone who is constantly scanning the surroundings in case of danger. In Greek mythology Syringa was a nymph that turned herself into a Lilac tree when Pan threatened her.
150

kr