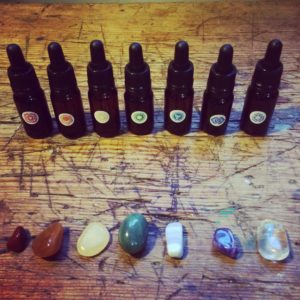 7 Chakras
This is a series of spagyric formulas dedicated to the 7 chakras.
The seven chakras are the centers through which energy flows in our bodies. The chakras can be described as spinning wheels of light. In sanskrit chakra means circle, symbolising the endless rotation of shakti.
The spagyric formulas created for each chakra can be used in many different ways.
Create your own practice and rituals.
Perhaps chant the mantra or seed-sound corresponding to each chakra, visualize the color or yantra, do yoga connected to each chakra or just connect with the chakra within.
There may be a few chakras needing extra attention and strengthening and one decides to work with those for a while.
There is much information on the word wide web if you need to research. A good book is "Wheels of Life" by Anodea Judith. I write a few keywords to each chakra-elixir, starting from the root and ending at the crown.
All chakras at a special price 700 kr + shipping.
Otherwise 150 kr each, please specify which ones you want to order.
150

kr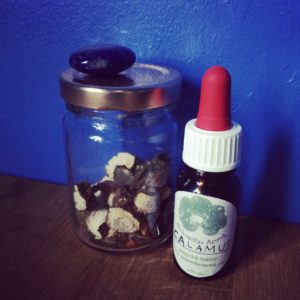 Calamus
The power to speak


Calamus root is aromatic and bitter. It is used for throat colds, sore throats, irritable coughs, laryngitis, chest colds, and head colds. It is considered an effective antihistamine; clearing stuffy sinuses and helping to dispel mucous. It is good when you've lost your voice and for singers or people who work with the voice.
It is also good for libido in both sexes. It also has a reputation in Ayurveda for benefitting conditions in the aging prostate. According to herbalist Henriette Kress "Calamus is astonishing for the pain from endometriosis. One of the few herbs we have for that; cherish it…"


Calamus also excels as a relaxant, despite its stimulating properties. "Stimulant" and "relaxant" shouldn't be seen a contradictory (uses occupying opposite ends of a polarity): stimulating herbs increase the expression of the vital force, while relaxants ease the resistance to that expression. They work together in a complimentary fashion to achieve the same end: better flow of energy and vitality.
Calamus can be incredibly effective in treating anxiety and is especially helpful in finding one's voice and expression.

Calamus promotes circulation to the brain, sharpens memory, enhances awareness, and increases communication. The yogic name, Vacha, means "speech" and refers to its action on the fifth chakra and its propensity to help you speak from your highest consciousness.
Clarity, centering, perspective. Expressing one's truth. This is what the teachings of Calamus is about.
150

kr