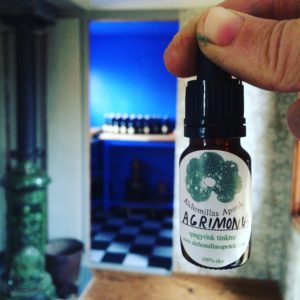 Agrimony
"Torturedly cheerful"

An astringent that tones the tissues but is used to relax the tissues. It is this paradox that is the magic that agrimony shares with many other medicinal plants.
States of stress such as spasms of the stomach, tension headaches, menstrual cramps where the person tries to hide it by pretending that everything is ok, "torturedly cheerful"
Pain in the spine, flu when you have pain in your joints.
Agrimony is also good for the kidneys and liver, poor digestion (indication: fat and undigested pieces of food in the poo), prevention of gall and kidney stones.
Incontinence, cystitis, urinary tract infection.

Agrimoy is superior for releasing tension and spasm, both on a physical and a psychological level. Agrimony is specifically indicated for those who try to hide their pain with a smile, behind a sophisticated and easy-going facade. Matthew Wood (The Earth Wise Herbal Vol 1) uses the phrase "torturedly cheerful" and it is very fitting.

Agrimony supports the connection between the brain and the other brain – the gut feeling, the enteric system. Agrimony is about strengthening the gut and is good for people who get pain in the belly out of concern and worry, around meals and eating or nervous, tense social situations. Pressing the emotions down into the gut.
80% of Serotonin is produced in the gut, far more than in the brain. One should never underestimate the gut feeling.
150

kr