Astral Elixir
Individually created Elixir of Life based on astrological chart
"Man is a microcosm, or a little world, because he is an extract from all the stars and planets of the whole firmament, from the earth and the elements; and so he is their quintessence." – Paracelsus
From your astrological birth chart I create unique spagyric formulas to support your vital force, inspired by Nicholas Culpepers Astral Formula and my astrological and herbal intuition. My gift is to match the characteristics of the herbs with the characteristics of the human, the archetypes of the zodiac and celestial bodies.
This is not a traditional astrological consultation, focus is on the herbs – how the vital force is manifested through you and how herbs can support the flow of this vitality.
I need to know the date, time and place of birth. You receive 50 ml spagyric tincture and consultation over Skype or telephone 1-2 hours, for the cost of 1500 kr + shipping.
Bookings via email.
Related Products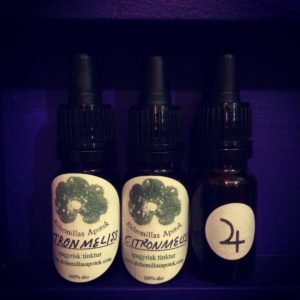 Lemon Balm
"See the world as if for the first time; see it through the eyes of a child, and you will suddenly find that you are free" – Deepak Chopra

Calming for the physical as well as the emotional heart. Good for indigestion, gas and bloating.

Lemon balm is a plant with both mood and cognitive-enhancement properties. It is calming, soothing anxiety and is spiritually uplifting. It brings joy and wonder to the user.

Lemon balm was the favorite herb of Paracelsus, the father of spagyria, who believed it would 'revivify a man' and called it "the elixir of life". 12th century herbalist Saint Hildegarde von Bingen said "Lemon balm contains within it the virtues of a dozen other plants."
Lemon balm is ruled by jupiter, the largest planet of our solar system, mainly composed of gas. Jupiter is called Guru in India, and the archetype of jupiter has to do with expansion, joy and the inner teacher.
Lemon balm instills a childlike wonder. It is possible and necessary to reinstall this quality if it is lost. This is the teaching of Lemon balm.
150

kr