Astral Elixir
Individually created Elixir of Life based on astrological chart
"Man is a microcosm, or a little world, because he is an extract from all the stars and planets of the whole firmament, from the earth and the elements; and so he is their quintessence." – Paracelsus
From your astrological birth chart I create unique spagyric formulas to support your vital force, inspired by Nicholas Culpepers Astral Formula and my astrological and herbal intuition. My gift is to match the characteristics of the herbs with the characteristics of the human, the archetypes of the zodiac and celestial bodies.
This is not a traditional astrological consultation, focus is on the herbs – how the vital force is manifested through you and how herbs can support the flow of this vitality.
I need to know the date, time and place of birth. You receive 50 ml spagyric tincture and consultation over Skype or telephone 1-2 hours, for the cost of 1500 kr + shipping.
Bookings via email.
Related Products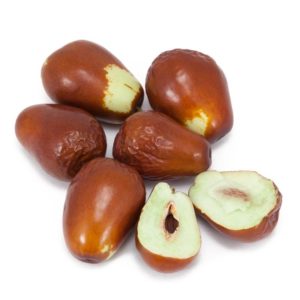 Jujube date
[:en]"Three red dates a day keep you young forever." – Chineese proverb.

The jujube fruit, the ziziphus jujuba also known as the Chinese date, has potent health benefits. Because jujubes contain a large amount of antioxidants, they can help improve the immune system and overall health. They have a strengthening effect and contain plenty of phytochemicals. Their impressive nutritional content also includes a notable amount of vitamin C, vitamin A and vitamin B2. Jujubes also contain vital minerals, such as manganese, iron, phosphorus and calcium. These elements work synergistically to create general health and well being and bolster the immune system.
Red dates are especially prized by women for their beauty and health effects. As they are very nourishing to the blood they are often eaten by women during their menses and after giving birth. Jujubes are considered and "elixir of life."

The potent chemical extracted from jujubes, jujuboside A, affects the hippocampus in the brain and is often used as a natural sleep aid. Jujubes can be used to treat both insomnia and anxiety.

Jujube purify the twelve Organ meridians, especially the Stomach, which is the body's "center" and represents the Earth Element in the Five Phase System. Red jujubes are also said to "clarify the nine openings" including the eyes, ears, sinuses, nose, throat, bowels and urinary tract. They have a long history of being considered excellent at building strength and extending life. In China they are considered able to tonify the Heart, Lung and Stomach functions. They are also said to dry up mucous while simultaneously moistening the tissues.
It is often used in Chinese herbalism as a Yin counterpart to strong Yang herbs such as Ginseng.
[:sv]"Tre röda dadlar om dagen och du förblir evigt ung" – Kinsesiskt ordspråk.

Jujubefrukten har kraftfulla hälsosamma verkningar.
Eftersom jujube innehåller stora mängder antioxidanter, stödjer de immunförsvaret och det allmänna hälsotillståndet. De skänker styrka och innehåller massor av fytokemikalier. Dess imponerande näringsinnehåll inkluderar bland annat vitamin C, A och B2, järn, fosfor, kalcium och mangan. Dessa element arbetar synergetiskt för att stödja en god hälsa.
Dessa röda dadlar uppskattas av kvinnor för att de skänker skönhet och stärker blodet, och används därför vid mens och efter förlossning. Jujube anses vara ett livselixir.

Jujubedadlar innehåller jujuboside A, som påverkar hippocampus i hjärnan. Jujube främjar god sömn och är samtidigt ångestdämpande.

Jujube renar de tolv meridianerna , särskillt magens, vilken är kroppens centrum och representerar jordelementet. Jujube sägs även rena de nio öppningarna, dvs ögonen, öronen, bihålorna, halsen, anus och urinvägarna. Historiskt har jujube använts för att ge styrka och förlänga livet. Jujube sägs stärka hjärtat, magen och lungorna enligt traditionell kinsesisk medicin. Samtidigt som denna dadel verkar återfuktande , torkar den samtidigt upp för mycket inre slem. Inom den kinesiska medicinen räknas den som en Yin-medicin som kan balansera starka Yang-mediciner som tex Ginseng.
[:]