Linden
150 kr
"Love is space and time measured by the heart." – Marcel Proust
Hjärtats minne

Lindblom kyler inre hetta, feber och när huden hettar. Den är också behjälplig vid rastlöshet, hyperaktivitet och panikångest.
Lindblom stödjer andningsvägarna, bra att ta till vid influensa och för att få upp slem och snor som sitter djupt.

Lindblom lugnar nerverna och hjärtat och är bra för att drömma lucida drömmar. Lindblom är bra för den typ av ångest som känns i hjärtat, sömnlöshet och stress. Lindblom verkar sederande.

Marcel Proust var den första att mynta begreppet "Ofrivilliga minnen" i romansviten "På spaning efter de tid som flytt". Proust såg dessa ofrivilliga minnen innehålla det förgågnas essenss, som han ansåg saknades i ett frivilligt minne. I romanen beskriver han en händelse där han äter en lindblomstedoppad madeleinekaka, och ett barndomsminne av att äta en lindblomstedoppad madeleinekaka uppenbaras för honom. Från detta minne följer minnen av hela hans barndom, huset han bodde i, den lilla staden och dess invånare. Detta är temat genom romansviten , via känselportalerna öppnas portaler i minnet.
Categories: Mercury, Singular Spagyric Tinctures, Sun
Tags: cardio-tonic, dreamwork, fever, flu, heart, heat, insomnia, Linden, lucid dreaming, memory, panic attack, restlessness, stress, sun, Tillia Cordata, tree
Description
Take 7-14 drops directly on the tongue or in a little tea when in need.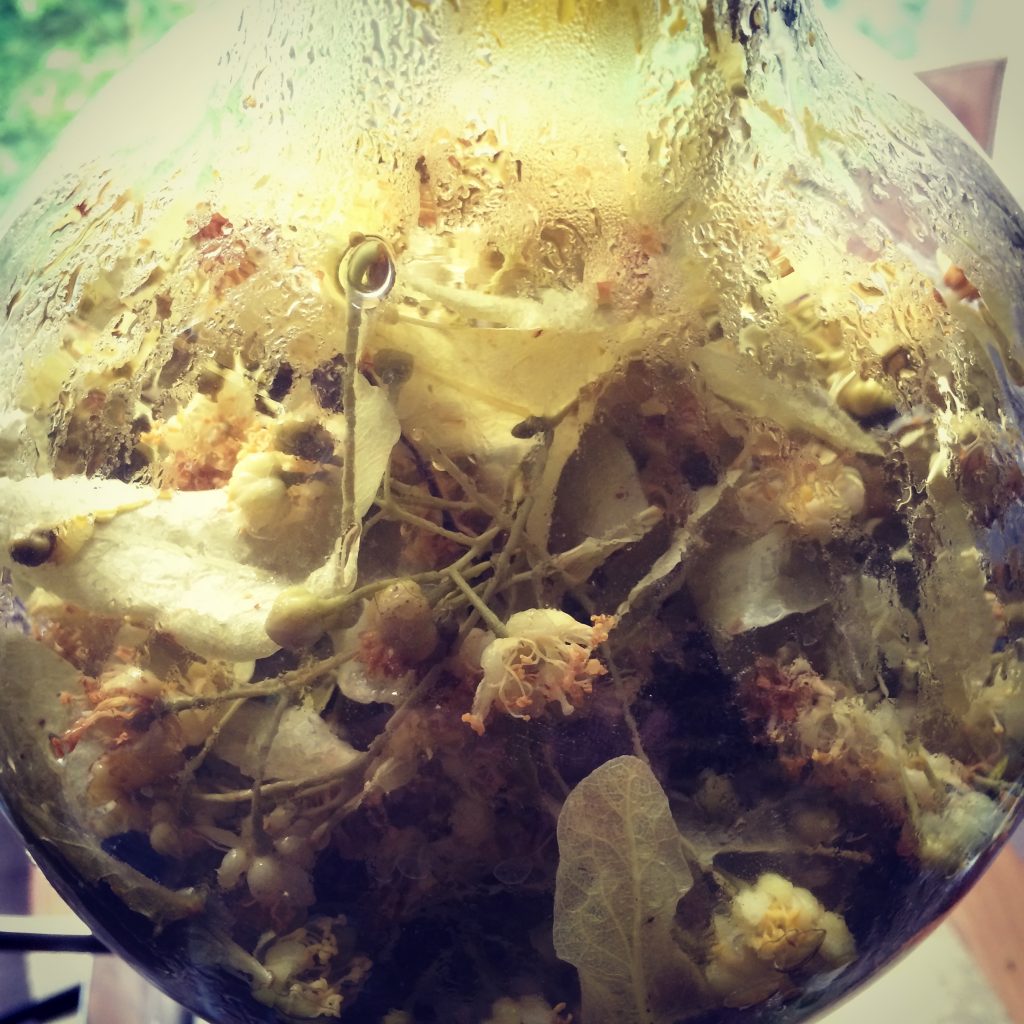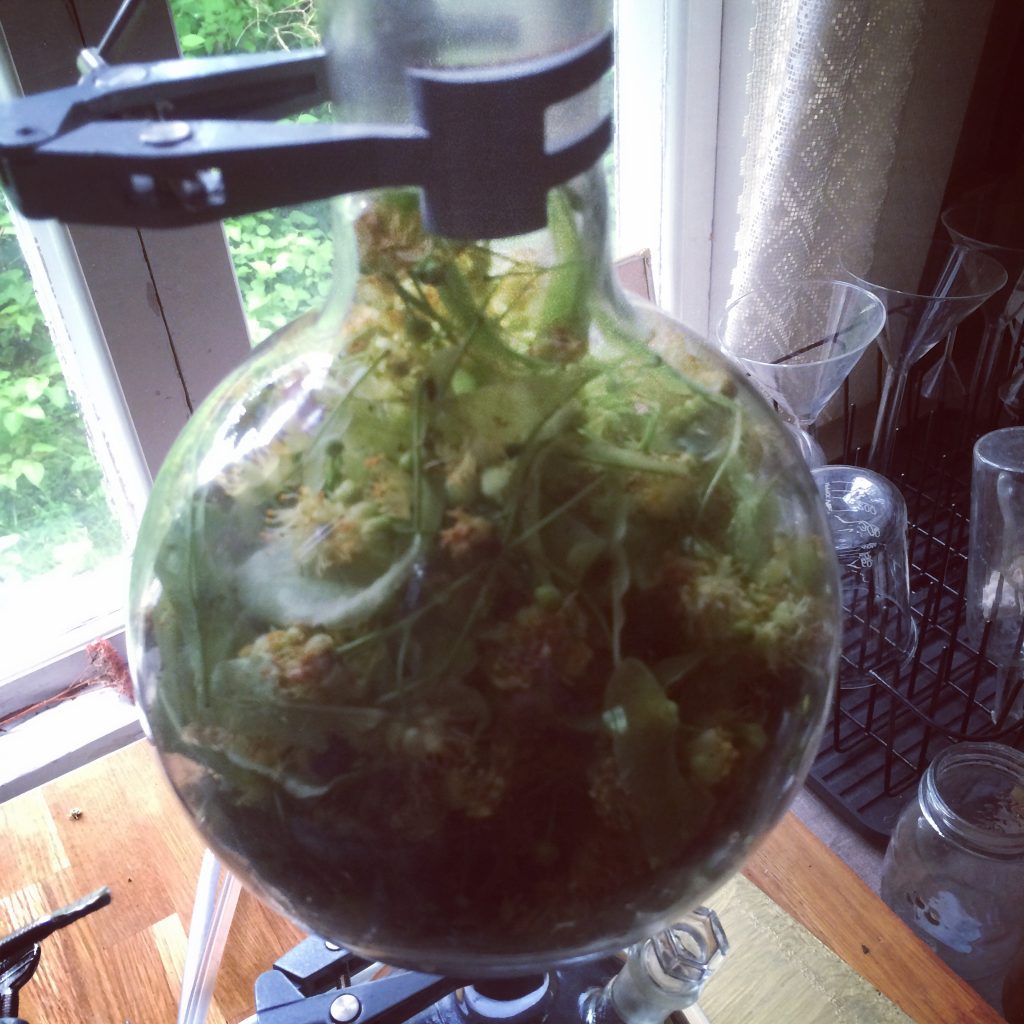 Related Products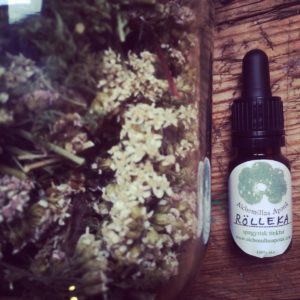 Yarrow
[:en]
The Wounded Warrior/The Wounded Healer

Yarrow is a fever remedy, It is also a bitter tonic that promotes digestion. The application as a wound remedy is prehistoric.
Because yarrow has such a strong affinity to the blood and bleeding, it is an important female remedy. It works both ways, to staunch excessive bleeding and to break up stagnant blood. Yarrow is a menstrual regulator. It is useful for irregular menstruation, mental restlessness in menopausal women and inflammation of the ovaries.
Yarrow is indicated for bleeding hemorrhoids. Use a compress with an infusion or hydrosol of yarrow topically and the spagyric tincture internally.

Yarrow both dulls pain and heightens consciousness. In a similar manner, it causes bleeding, stops bleeding, and breaks up stagnant, coagulated blood. Paradox is common in herbal medicine.

It is a warrior remedy. Named after the immortal Greek warrior, with the exception of his weak spot on his ankle (the Achilles tendon), it gives us the strength to face our weakness. Yarrow goes to this spot and strengthens it, turning our weaknesses into strengths and talents.
This is also reflected in the myth of Chiron, the wounded healer. The union of paradox and the union of the feminine and the masculine. (venus: female reproductive system and kidneys , mars: blood, fever, immune system) The transmutation from the warrior into the healer.
The teaching of yarrow is that it is a healer of the sacred wound. It is the sacred wounds that heal us on a deeper level.[:sv]
Den sårade krigaren / Den sårade helaren

Rölleka är både bra vid feber och för matsmältningen. Man har använt den för att läka sår sedan urminnes tider. Eftersom rölleka har med blodet och blödande att göra är det även en kvinnoört. Den verkar åt båda håll, att stilla blod och få fart på blodflödet. Därför reglerar den så att man blöder lagom mycket när man har mens. Den är även bra vid oregelbunden mens, rastlöshet hos kvinnor i klimakteriet och vid äggstocksinflammation.
Rölleka är bra vid blödande hemmorojder.

Rölleka både dämpar smärta och höjer medvetandet. På ett liknande vis stillar den och skapar blödning. Just denna typ av paradox är vanlig i växtmedecin.

Det här är krigarens medecin. På latin uppkallad efter den odödlige krigaren i grekisk mytologi, med undantaget av hans svaga punkt (Akilleshälen) ger oss röllekan modet att möta våra egna svagheter. Röllekan hittar dessa svaga punkter och går in och stärker dem och transformerar dem till styrkor och gåvor. Detta reflekteras även i myten om Chiron, den sårade helaren. Föreningen av paradoxerna, föreningen mellan det feminina och maskulina (venus: livmodern och de kvinliga reproduktionsorganen och mars: blod, feber, immunförsvaret) Transmutationen från krigare till helare. Röllekans hemlighet är att den läker själens sår. Det är när vi läker de innersta själsliga såren vi helas på ett djupare plan.[:]
150

kr